Cseresznyes Gomboc (Cherry Dumplings)
Cseresznyes Gomboc (aka Cherry Dumplings) are a Hungarian traditional dessert dumplings that is a mix between potato gnocchi and a sweet version of English steamed dumplings (you know the ones that are usually eaten with stews).
As like gnocchi these dumplings are cooked in boiling salted water and are the same texture – fluffy and light.
Occasionally made with plums the traditional recipe calls for cherries (hence the 'Cseresznyes' which means cherry in Hungary).
Such a unique treat, think cinnamon doughnut outside and sweet gnocci filling.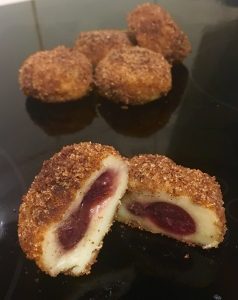 Ingredients:
Dumpling:
500g sebago potatoes
150g butter, softened
1 tsn salt
1 egg
210g plain flour
330g pitted Morello cherries
70 g stale breadcrumbs
3 tsp ground cinnamon
40g caster sugar
Extra:
100 thickened cream
20g icing sugar
Method:
Place whole potatoes in a saucepan of boiling water on medium heat.
Allow potatoes to boil for 20 minutes or until a knife inserted into a potato slides in seamlessly, place potatoes aside to cool.
Peel the potatoes and press through a sieve into a bowl.
Add 40g of the butter, the salt and egg to the potato. Using a hand whisk beat until combine.
Add the flour to the potato mix, stir to combine and knead until the mix resembles a dough.
Divide the dough into 40g pieces and roll the dough into balls in your palms.
Working with one ball at a time, make a hole in the centre. Place 2 cherries inside, fold dough over to enclose the filling, press tightly to seal and re-roll into a ball.
Place dumpling on a floured tray and repeat with remaining dough until all dumplings are done.
Cook the dumplings in 3 lots, dropping 1/3rd into a saucepan of boiling salted water and cook for 4 minutes or until they rise to the surface.
Using a slotted spoon remove the dumplings from the water and place on a large tray. Repeat 2 more times with remaining dumplings.
Place the sugar and cinnamon into a bowl, stir to combine.
Place the remaining 110g of butter in a large non-stick frying pan on a medium heat.
Cook the dumplings in the butter for 3 minutes or until slightly golden.
Add the breadcrumbs to the pan and cook for 2 minutes or until golden, moving the dumplings around in the pan with a spoon as well as shaking the pan.
One by one place a dumpling into the sugar mix, shaking the bowl to completely cover the dumplings.
Whisk the cream and icing sugar until combined.
Serve dumplings on a platter with a side of the cream, enjoy.

Step 3

Step 3

Step 5

Step 7

Step 8

Step 9

Step 13

Step 14

Step 15

Like this recipe? Subscribe via RSS or email to get my new entries and more scrumptious recipes with reviews