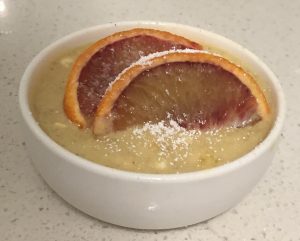 This recipe is a mix of my favorite flavours, in which I have put in an easy ice-cream based recipe with delicious textured chunks.
Saffron, Orange, Cardamom and Almond are such a beautiful delight of complementing flavours that really puts a smile on my face.
I wanted to make something a bit unusual with this flavour combo so decided ice-cream would be an interesting experiment. However, I didn't just want to make the usual smooth and creamy ice-cream that is standard (if made correctly of course), I wanted to add delicious texture. This is where the vanilla flavoured cookies and frozen orange pieces came into play.
If you're looking for a delicious satisfying treat that's a bit unusual with no baking or ice-cream churning this recipe is for you.
Ingredients:
1 orange
1 cup milk
1 cup cream
1 tsn almond essence
1 tsn orange zest
1 tsn cardamom
12 saffron threads
4 eggs
100g brown sugar
200g vanilla biscuits (I used vanilla Oreos)
Method:
Place the orange in the freezer.
Place the cream and milk in a saucepan on medium heat until the mix boils.
Remove the milk mix off the heat and stir in the essence, zest, cardamom and saffron.
Place the milk mix in a bowl and leave aside for 5 minutes for the flavours to infuse.
Using a hand whisk, beat 2 eggs and 2 yolks in another bowl with the sugar.
Add 40ml of the milk mix to the egg mix and beat with the hand whisk until combine and smooth.
Pour the egg mix into a saucepan along with the remaining milk mix and on a very low heat beat with a hand whisk until the mix thickens and thickly coats the back of a spoon.
Pour the mix into a bowl and place in the freezer until the mix is almost set.
Meanwhile, place the biscuits in a food processor and pulse until small chunks are formed.
Peel and segment the orange, dice finely into pieces.
Stir in 40g of orange diced pieces along with the biscuit pieces until well combined and place back in the fridge to set.
Using an ice-cream scoop serve and enjoy.