Passionfruit Orange Blossom and Pineapple Custard Pots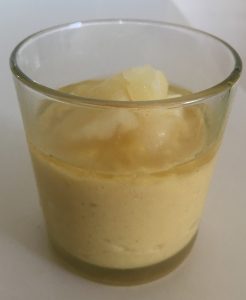 Sometimes it is quite difficult for me to write up what inspired a recipe you see on this blog, this recipe being no exception.
Ultimately, I had a ton of passionfruits and wanted to make something that centered on this fruit as (a) I rarely experiment with passionfruit and (b) I cannot let food go to waste.
I have attempted passionfruit and chocolate cake in the past in which the end learning was that passionfruit is much better paired with a similar acidic toned profile. Orange and Pineapple both work together well, additionally they are complementary to passionfruit, not surprising that the 3 work perfectly together.
As I eluded to I have experimented with different passionfruit pairings which resulted in cakes that were not to my expectations so this time around I opted against a cake and looked at a pudding, custard and flan alternatives. The winner, that would be the custard pots.
A delicious, quick and easy, low fat, lowish sugar treat.
Ingredients:
Milk:
¼ tsn salt

500ml milk

1 piece of orange peel

6 passionfruits

1 tsn orange blossom water

30ml pineapple juice
Custard:
3 eggs

45ml sugar

45g corn flour

45ml butter
Syrup:
60ml pineapple juice

30ml sugar

Pineapple pieces
Method:
Place all milk ingredients into a saucepan on medium heat until the milk mix is boiling (the milk will curdle due to the acid in the passionfruit, this is fine). Once boiling, remove off heat and leave aside for 15 minutes to infuse and cool.
Once cooled remove the orange peel and blitz the milk mix in a food processor until smooth and creamy in consistency.
Place the milk mix through a sieve to capture any remaining passionfruit seeds and leave the milk mix aside for later use.
Meanwhile, beat the egg yolks, sugar and flour with electric beaters for 10 minutes or until light and fluffy.
Slowly pour the milk mix into the egg mix while stirring with a spatula until completely combine.
Pour the mix back into the saucepan on a medium heat and whisk with a hand whisk for 10 minutes or the custard is thickened to a curd/aioli consistency.
Take off the heat and whisk in the butter until well combined.
Pour the custard into 4 glasses and cover with plastic wrap.
Once the custard is at room temperature place the glasses in the fridge to set for at least an hour.
Meanwhile, make the syrup by placing the sugar and juice into a saucepan on medium heat, stirring until sugar has dissolved.
Leave the syrup to boil until it thickens to syrup consistency, remove off heat. Allow the syrup to cool before placing it into a container, them into the fridge.
When you are ready to serve pour the syrup over the top of the pots evenly and top with pineapple pieces.
Like this recipe? Subscribe via RSS or email to get my new entries and more scrumptious recipes with reviews.