Apple Lemon and Aniseed Doughnuts
There are so many doughnut recipes in the world that vary in base ingredients as well as methods, shapes, sizes, flavours and filling types (if any). On top of this many counties have their own traditional doughnuts; the Dutch with (oliebollen), Mexico (churros), Middle East (awwami), France (beignet) and the list could go on and on.
Then there is the use of different core ingredients such as flour, potato, semolina, apple, ricotta, rice, cream cheese, milk powder just to name a few.
Then there is yeast or no yeast, dry or soaked, iced or filled, round or ring shaped….there must be thousands of varies all special to someone in the world.
As this is such an interesting sweet treat I decided to have a day of experimenting with traditional and new age (injection filled doughnuts), different key ingredients for ultimate fluffiness and interesting flavour combos to stay true to my passion of unusual but amazing tasting flavour pairings.
It will take me a long long long time to list all the experiments, suffice to say this recipe I'm posting is fluffier than a pancake and delicious in taste – you won't stop at one! Though you do need to be an aniseed/star anise/fennel/licorice fan as I heavily feature aniseed for something delicious and different.
Ingredients:
Batter:
250ml milk
100g sugar
2 tsn yeast
1 apple (130g)
250g plain flour
250g self raising flour
1 tbsn ground aniseed
½ tsn aniseed essence
¼ tsn salt
80g butter, at room temperature
3 eggs
1 lemon
Extra:
Oil for frying
100ml ouzo liquor
100g sugar
Method:
Warm the milk to a luke warm temperature.
Add 15g sugar and the yeast to the milk and stir. Set mix aside in a warm place for 10 minutes to bubble and activate.
Meanwhile, peel the apple and grate it (a 130g apple will produce 110g grated apple), place into a bowl.
Add the flours in a bowl along with the ground aniseed, aniseed essence, salt, butter, eggs and 1 small lemons zest.
Place the flour mix bowl into an electric mixer with a paddle attachment and beat on medium until well combined.
Next pour the milk into the flour mix slowly in a stream, beating for 5 minutes.
Cover the bowl with plastic wrap and set aside somewhere warm for 90 minutes to rise.
Place paper towel sheets onto a large plate for later use.
Place the 100g extra sugar into a shallow bowl.
Pour the oil into a saucepan and heat on medium on a stove top until 175c degrees is hit.
Oil 2 tbsn's (to stop the batter sticking to the spoon) and spoon a large tbsn of batter into the frying oil, using the other spoon to scoop the mix into the saucepan.
Cook the doughnuts for 3-4 minutes until golden brown and crispy on the outside.
Using tongs remove the doughnuts from the oil and place on the paper towel to absorb excess oil.
Following, using a pastry brush add the ouzo to a doughnuts on both sides.
Place the doughnuts into the sugar, ensuring even coating.
Repeat ouzo and sugar steps until all doughnuts are done.
Place doughnuts on a plate and enjoy!
PN: If you don't have aniseed essence you can replace with an extra tbsn of ground aniseed. Ouzo can be replaced with Black Sambuca or any other aniseed/licorice flavoured liquor.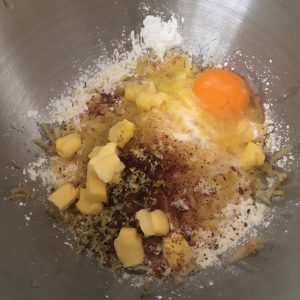 Step 4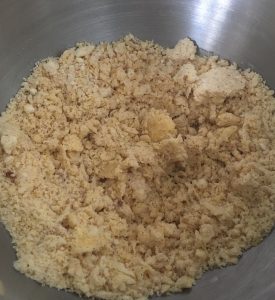 Step 5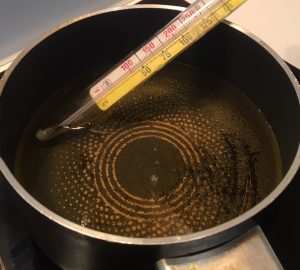 Step 10
Step 12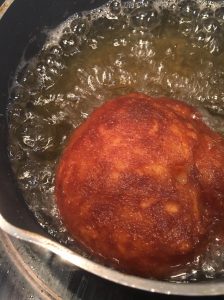 Step 12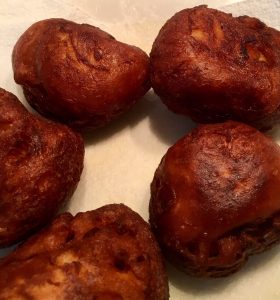 Step 13
Step 17
Like this recipe? Subscribe via RSS or email to get my new entries and more scrumptious recipes with reviews.