Lemon and Lavender Apple Balls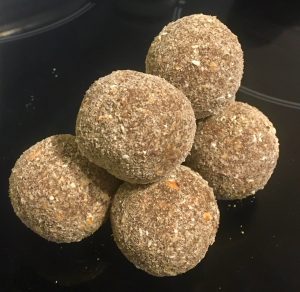 This bake session was originally planned to experiment with salt and pepper apple crumble spiced oat balls that went through quite a number of iterations before I landed on the flavour combo of lavender, lemon and apple. This flavour mix was so tasty with the lemon and lavender flavours balanced to perfection. The texture though was not ideal and the flavour could have been stronger.
I had grated apples into the mix which took a lot of oats to absorb and dulled the flavours down a little too much.
So I attempted this same recipe again, this time squeezing the apple juice from the apple flesh and 'bingo' a significant reduction in the oats and biscuits allowed the flavour strength I was looking for.
These balls are delicious, super easy and take minutes to make with no oven required!
Ingredients:
400g malt biscuits
10g icing sugar
1 tsn ground lavender
1 tsn lemon zest
40g toasted oats
1 tsn psyllium husk powder
4 apples (130g each)
Coating:
10g brown sugar
20g toasted oats
10g walnuts
1/8th tsn ground lavender
Method:
Peel the 4 apples with a vegetable peeler.
Grate the apples into a bowl.
Squeeze out the apple juice with both hands into a glass to drink later (yum)!
You should have 140g of squeezed apple flesh in total, place into a food processor.
Add the biscuits broken into pieces, the sugar, lavender, lemon zest, oats and psyllium husk into the food processor.
Pulse the mix until the large lumps have subsided, give it a little stir, then blitz again until well combine and smooth.
Knead the mix ( on a lightly floured surface if the mix is too sticky) on a bench to ensure no lumps then set mix aside in the fridge for 15 mins.
Meanwhile, make the coating by placing the sugar, oats, walnuts and lavender into the food processor until the mix resembles salt grains in size.
Place the mix into a shallow dish.
Roll the apple mix into balls of 25g each then roll each ball into the coating mix until well covered.
Place coated balls onto a plate and continue the process until all apple ball mix is used.
Place the plate in the fridge for 30 minutes minimum to fully set.
Enjoy!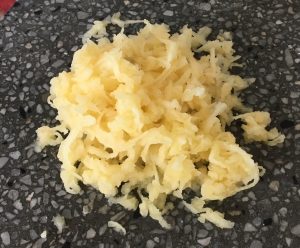 Step 2
Step 8
Step 10
Like this recipe? Subscribe via RSS or email to get my new entries and more scrumptious recipes with reviews.