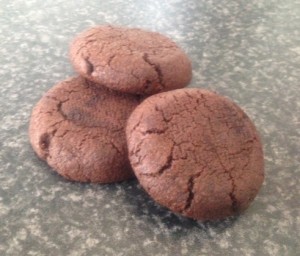 Chilli Chocolate Cookies
So I have had these cookies on my radar from quite a while. I love chocolate and do like some chilli in my cooking and have notice how Lindt and Cadbury have come out with their chocolate chilli sku's so I thought I must give these a go already.
I shouldn't be surprised that the flavours did in fact work perfectly together and I think the touch of cinnamon is quite complementary to the flavour combo.
These cookies are crunchie and soft in the center with a chocolate taste and a burst of chilli that hits after.
Ingredients:
120g butter
120g dark chocolate
2 eggs
1 tsn vanilla essence
1 cup brown sugar
1 white white sugar
1 + ¾ cups of plain flour
½ cup cocoa powder
2 tsn cinnamon
1 tsn chilli powder
180g dark chocolate
Method:
Pre-heat oven to 180c and line a 2 baking trays with baking paper.
Melt the butter in the microwave for 45 seconds. Break up the dark chocolate and stir with a metal spoon through the butter until glossy and smooth.
In a separate bowl whisk with electric beaters eggs, vanilla and sugars until pale and thick.
Stir in the chocolate mix until combined.
Sift in the flour, cocoa, cinnamon and chilli powder, stir to combine.
Chop chocolate into small pieces and stir into cookie dough.
Roll the dough with hands into 25g balls and place onto the baking trays. Use fingertips to flatten slightly.
Bake for 10 mins or until set.
Place cookies onto a cooking rack, enjoy.
Notes:
I actually kneaded the cookie dough to quickly ensure the dough was well combined.
I used scales to weight the cookie dough balls to get them all the same size.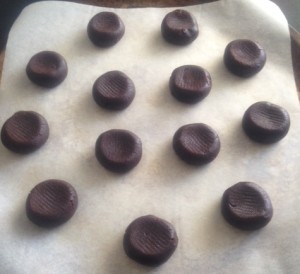 Like this recipe? Subscribe via RSS or email to get my new entries and more scrumptious recipes with reviews.