Clinker Cheesecake
It's been a while since I baked with lollies (see my Red Skin Candy Cake and Musk Candy Cake recipes).
To reignite this baking lollie twist I decided to start looking at chocolate lollies and incorporating these in my recipes.
One of the chocolate types I thought would be interesting and not commonly consumed was Pascall's Clinkers.
Chocolate covered candy with a surprise of either pineapple, lime or strawberry in the middle…yum!
I have opted for a cheesecake in this instance as chunks of diced Clinkers in a traditional baked cake would leave holes and make the cake unstable when the chocolate and candy melted in the cooking process.
Ingredients:
150g chocolate biscuits
70g butter
500g cream cheese
30g sugar
2 tsn gelatine
60ml water
200g milk chocolate
350g clinkers
240g thickened cream
Method:
Line a 23cm spring form baking tin with baking paper.
Place the biscuits in a food processor and blitz until they resemble fine breadcrumbs. Melt the butter, add to the biscuits and pulse until well combine.
Press biscuit mix into the base of the tin then place in the fridge to firm.
Using electric beaters whisk the cream cheese and sugar until smooth.
Melt the chocolate and beat into the cheese mix until smooth.
Boil the water and mix the gelatine, using a fork to combine until the mix has no lumps and is silky.
Add the gelatine mix to the cheese mix and beat until well combine.
Clean the beaters and whisk the cream until peaks form.
Cut 250g of clinkers into medium sized pieces each so you have nice chunks and fold with the cream into the cheese mix.
Spoon over the chocolate base and leave in the fridge for at least 3 hours to set.
Once set remove from the tin.
Place 100g of clinkers in the food processor and blitz until the mix resembles breadcrumb consistency.
Roll the cake onto its side once set to coat sides of cake with the clinker mix, then sprinkle the remaining on top.
Step 2
Step 3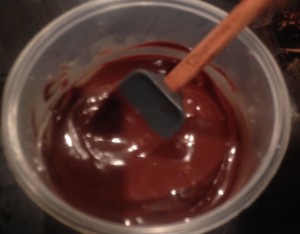 Step 5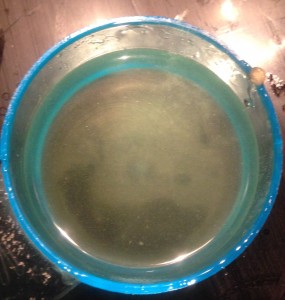 Step 7
Step 9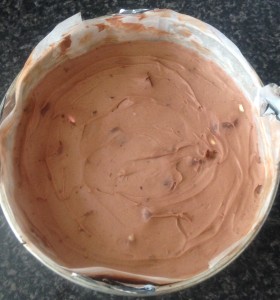 Step 9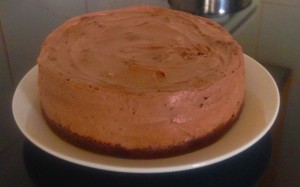 Step 11
Step 13
Like this recipe? Subscribe via RSS or email to get my new entries and more scrumptious recipes with reviews.