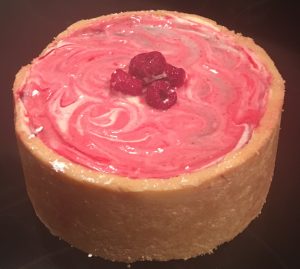 I have always loved the flavour of blue heaven and decided that I wanted to make a cake out of it. The only way I could really think of putting this flavour into a cake was by using jelly crystals, thus the cake types I could actually experiment with were limited – making a cheesecake the most obvious option.
If I used the jelly in a cheesecake I wouldn't need to bake the cake as the jelly would help set the cheesecake to the perfect consistency.
To play to the blue heaven child-hood flavour I added blue food colouring to really make this cake pop and look like it belonged in Willy Wonka's chocolate factory.
The outcome was exactly as I was hoping for, the flavour reminds me of when I was a child, its super creamy and a satisfying must if you were a fan of blue heaven spiders as a kid!

Ingredients:
Base:
200g sweet biscuits
90g butter, softened
Filling:
85g jelly crystals (blue heaven flavored)
100g water
30g sugar
50ml cream
250g cream cheese, softened
A few drops of blue food coloring
Jelly layer:
30g jelly crystals (blue heaven flavored)
100g water
Method:
Line a 25cm spring form cake tin with baking paper.

Place the biscuits and soften butter in a food processor and blitz until the mix resembles fine breadcrumbs.

Press mix into the bottom and sides of the lined cake tin.

Place the tin in the fridge to set.

Boil the water and pour into a bowl, add the jelly crystals and stir until the crystals have melted and mixed in well. Set aside to cool to room temperature.

Place the cream in a new bowl and using electric beaters whisk the cream until soft peaks form.

Add the cooled jelly mix, sugar and cream cheese and beat until smooth and silky.

Add the food colouring and fold the mix a few times to achieve a blue swirl.

Pour the cheesecake filling into the prepared tin, smoothing the top with a spoon.

Place the cake tin in the fridge for 3 hours to set.

Meanwhile, boil 50ml water and pour not a bowl. Add the jelly crystals and stir until the crystals have melted and mixed in well. Leave aside to cool.

Once jelly mix is cooled pour the jelly over the cheesecake and place in the fridge for a further 90 mins to set.

Cut the cake into slices and enjoy!
Note: Using electric beaters I whipped up 100ml of thickened cream, 1 tbsn sugar and 1 tsn of vanilla essence to decorate the cake as well as a few raspberries.
Step 2
Step 3
Step 8
Step 9
Step 13
Like this recipe? Subscribe via RSS or email to get my new entries and more scrumptious recipes with reviews.