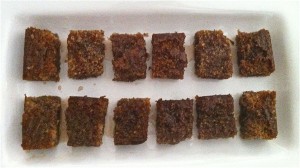 Hazelnut Cake with Spiced Syrup
This cake believe it or not tastes like Baklava but without the pastry and is better!
This is actually one of my favorite cakes that incorporates beautiful spices, tasty hazelnut with a to die for syrup and melt in your mouth texture.
Ingredients:
125g butter
½ cup white sugar
3 eggs
1/3 cup plain flour
1 tsn baking powder
1 ¾ cup hazelnut meal
¼ cup milk
Syrup
2 chamomile tea bags
2/3 cup boiling water
¼ cup honey
1 + ½ tsb cinnamon
2/3 cup white sugar
Method:
Place the teabags into boiling water on a saucepan, boil then let the tea infuse for 15 minutes mins.
Preheat the oven to 180c and line a 20cm cake tin with baking paper.
Beat butter and sugar until pale and fluffy, add eggs one at a time.
Sift in the corn flour and baking powder.
Add hazelnut meal and milk and stir to combine.
Pour into tin and bake for 45 minutes or until skewer inserted in the cake comes out clean.
To make the syrup remove the teabags and add in the honey, cinnamon and sugar.
Put the stove on medium until the sugar dissolves, then bring to the boil until the syrup has thickened.
Once cake has cooled place on a plate and drizzle with the syrup.
Notes:
My example above is a slice, where I just made this into a rectangle slice tin instead. As this cake has minimal rising agents this was fine to do. I recommend though making it as a cake.
You could use chai teabags instead of chamomile for a more spicy taste.
I recommend whipping up some cream with icing sugar and piping on top then drizzling the syrup if you want to dress the cake up a bit.
This would also be lovely served with ice-cream on the side.
Like this recipe? Subscribe via RSS or email to get my new entries and more scrumptious recipes with reviews.