Vegan Black Bean and Chocolate Cake with Avocado Frosting
I have a friend who is converting from a vegetarian to a vegan and she is heavily interested in vegan cooking.
After a few conversations around vegan food and deciding we would spend a day experimenting I got excited to have my own baking experiment and make her a cake.
I do actually have a vegan cake on my blog that I have previously created (see Vegan Chocolate Cake), a nut dense cake, however I wanted to make a cost effective and easy recipe for anyone to be able to make.
To add my unusual spin on things I ended up basing the cake on black beans to ensure a sturdy and moist cake, used seeds to mimic eggs and avocado to substitute cream.
The outcome is a healthy vegan friendly moreish cake that was gone in minutes of hitting the table.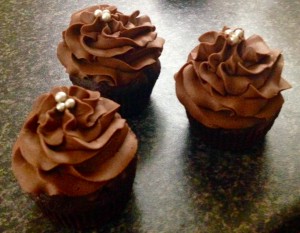 Ingredients:
15g flaxseed
3 tbsn water
140g cooked black beans
70ml water
125g sugar
70ml canola oil
90g plain flour
45g cocoa powder
2 tsn baking powder
½ tsn bicarbonate of soda
Frosting:
40g maple syrup
1 avocado
20g cocoa powder
Method:
Grind the flaxseeds in a mortar and pestle until it resembles a sand like consistency.
Add the 3 tbsn of water and stir. Leave aside to gel.
Pre-heat the oven to 180 c degrees and line a 25cm cake tin with baking paper.
Rinse the cooked black beans and place in a food processor with the 70ml of water, blitz until pureed and smooth.
Add the sugar, flaxseed mix and oil to the bean mix. Blitz until smooth and silky.
Pour the mix into a bowl and add the flour, cocoa powder, baking powder and bicarb.
Using a hand whisk beat until the mix is combine and silky.
Pour the mix into the cake tin and flatten the top with the back of a spoon and bake for 45 minutes or until a skewer inserted in the center comes out clean.
Place the cake on a cooling rack until cold.
To make the frosting place the maple syrup, avo and cocoa powder into the food processor and blitz until silky sooth.
Cut the cooled cake in half horizontally.
Using a spatula spread half the frosting on the bottom cake layer and top with the second layer.
Using the remaining frosting to ice the top and sides of the cake.
Note:
If you would like to make cupcakes instead of a cake you can pour the mix into cupcake patties and bake for 20 minutes or until a skewer inserted into the center comes out clean. You can then use a piping bag and star nozzle to pipe the icing.

Step 2

Step 4

Step 8

Step 9

Step 10

Step 12

Step 13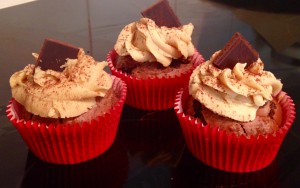 Like this recipe? Subscribe via RSS or email to get my new entries and more scrumptious recipes with reviews.