Frangelico Chocolate Hazelnut Tiramisu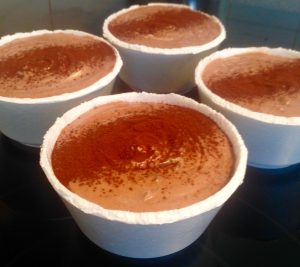 I'm a massive massive fan or Tiramisu, it's my all-time favorite dessert.
So earlier today, when I was feeling really creative I decided to do a whole range of different tiramisus with a variation of different flavor combinations. I figured if I could make a tiramisu that I really liked and found interesting it would have to be pretty amazing.
I made 10 different variations of flavour combo's that I experimented with, while still sticking to the fundamentals of the dessert and not opting too far away.
Out of all the variations I created only one that was really a standout to the point that I kept going back for more.
I'm not saying this recipe is as good as my mother's traditional tiramisu (which is the best dessert I have ever eaten in my life), however it is a scrumptious hazelnut alternative (instead of marsala as the base flavour).
For extra hazelnut flavour in this recipe I used liquor, spread and hazelnuts for that much needed texture crunch.
As usual, to make this more baking-friendly I have simplified the traditional method down to a few less steps without impacting the quality or taste.
Ingredients:
3 tbsn instant coffee
140ml hot water
220ml Frangelico (or any other hazelnut liquor)
3 eggs
120g sugar
600g mascarpone cheese
300g Nutella (or any other hazelnut spread)
200g savoiardi biscuits
100g hazelnuts
Method:
Combine the water and coffee granules and stir until dissolved.

Add 180ml of the Frangelico and stir into the coffee, leave aside for later.

Separate the eggs with the whites in a bowl and the yolks into another.

Add the sugar to the yolk bowl and using electric beaters whisk for 5 minutes or until light and creamy.

Add the remaining Frangelico and mascarpone cheese and beat until combine on low speed.

Clean beaters and beat the egg whites until peaks form.

Fold the egg whites and Nutella into the cheese mix until just combine.

Dip a biscuit into the coffee mix for a second on each side. Place biscuits in the base of a 20 x 20 cm baking tray.

Repeat dipping the biscuits and placing into the tray until you have used half the biscuits.

Chop up the hazelnuts into rough small pieces and sprinkle half on top of the cheese mix.

Top nuts with half the cheese mix and spread to allow for an even cover.

Repeat the biscuits being dipped and placed on top of the cheese mix until all the biscuits are used up.

Sprinkle remaining nuts.

Top the nut layer with the remaining cheese mix and spread to allow for an even cover.

Place in the fridge for 4 hours or overnight.

Serve with grated chocolate, cocoa powder or a sprinkle of extra chopped hazelnuts and enjoy.
Step 2
Step 5

Step 6

Step 7

Step 14

Step 15 
 Like this recipe? Please subscribe via RSS or email to get my new entries and more scrumptious recipes with reviews.