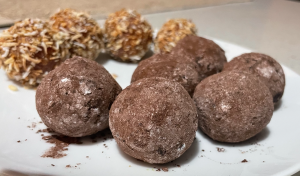 High protein, healthy good fats (yes it does contain sugar but not a large amount), these bliss balls are super rich and decadent in flavour and texture.
So simple to make with limited ingredients, these treats take a whole of 10 mins max to make.
Ingredients:
90g banana
165g hazelnut meal
30g cocoa powder
30g chia seeds
60g brown sugar
¼ tsn salt
Cocoa powder, extra
Icing sugar, extra
Method:
Place the banana, hazelnut meal, chia seeds, sugar and salt into a food processor and blitz until well combine, scraping down the sides of the processor if required.
Place the mix into a bowl and leave in the fridge to set for 1 hour.
Remove the mix from the fridge and roll into balls of 25g each.
Place the extra cocoa powder and icing sugar into a sieve and sprinkle in a shallow bowl, mix.
Ball by ball, place each into the bowl, rolling to cover the mix completely.
Place all rolled balls into the fridge and enjoy!