Baklava
Similar to the other international traditional dishes I have blogged about this one as well has many different variations, which I have explored and found my favorite.
Ingredients:
160g blanched almonds
140 shelled pistachios
2 tsn ground cinnamon
1 tsn ground cloves
1 tsn ground nutmeg
18 filo pastry sheets
75g butter
Syrup
1 cup water
220g white sugar
90g cup honey
1 + ½ tsn rosewater
Method:
Preheat the oven to 180c and grease a 22cm square cake tin.
Process the nuts and spices until finely chopped.
Spread the nut mix onto a tray and bake in the oven for 10 minutes or until lightly browned.
Increase the oven temprature to 200c.
Cut the pastry sheets to fit the base on the tin. Layer 3 pastry sheets brushing each layer with butter. Place this in the tin and sprinkle with 1/3 cup of the nut mix.
Repeat pervious step ending with 3 sheets of pastry.
Using a knife, cut the baklava into quarters, then each square diagonally, then the triangles in half.
Bake for 25 minutes, reduce the oven temperature to 150c and bake for another 10 minutes.
Now make the syrup by stirring all the ingredients in a saucepan on medium until the sugar dissolves.
Bring to the boil then reduce the heat to a simmer and leave without stirring for 5 minutes or until slightly thickened.
Once the Baklava is cooked pour the syrup over the pastry. Once the Baklava is cooled serve.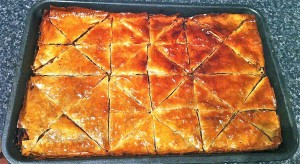 Like this recipe? Subscribe via RSS or email to get my new entries and more scrumptious recipes with reviews.