Strawberry Lemon Slice with Earl Grey Marshmallow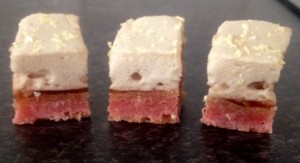 This recipe is easy, requires low effort and only a small number of ingredients.
The flavors all complement each other well, where they create a very unique and flavorsome little sweet treat.
This recipe originally came about as I wanted to make the easiest, fuss free marshmallow that people would be impressed with. I spend ages producing and using multiple baking techniques and ended being really happy with this outcome.
I also went through a baking with tea phase and was yet to perfect a recipe using Earl Grey tea (this was attempt number 7).
This recipe would make for a lovely high tea inclusion for any occasion.
Ingredients:
100g self raising flour
1oog plain flour
180g sugar
100g butter
4 tsn strawberry essence
1 tsn lemon zest
1 egg
Marshmallow:
4 teabags Earl Grey
1 tbsn gelatine powder
140g sugar
Method:
Pre-heat the oven to 180c degrees and line a 20cm x 30cm cake tin with baking paper.
Place the flours and sugar into a bowl and mix.
Melt the butter in a bowl and add the essence and zest.
Stir the egg into the flour mix, add the butter mix and stir until well combine.
Place the mix into the cake tin and flatten with fingers until smooth.
Bake in the oven for 20 minutes, then set aside to cool.
Place 300ml boiling water into a cup and add in the tea bags. Leave the tea to infuse for 5 minutes.
Make the marshmallow mix by placing the gelatine into 100ml of the infused tea water in a bowl and whisk to combine the mix.
Place another 100ml tea water and sugar into a bowl and whish with electric beaters for 4 minutes.
Place the gelatine mix in the microwave until warm and syrupy in texture if mix has gone cool and hard.
Slowly pour the gelatine mix into the sugar mix in a consistent stream while the beaters are on high.
Continue beating for a further 8 minutes or until the mix is light and fluffy.
Pour the mix over the cooled slice base and place in the fridge for 2 hours to set completely.
Cut and enjoy.
Notes:
You need to make more tea than required as the tea bags soak up a lot of the liquid.
Step 4
Step 5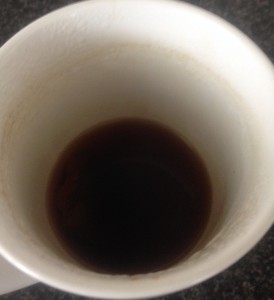 Step 7
Step 8
Step 13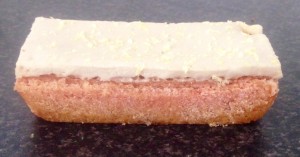 Step 14
Like this recipe? Subscribe via RSS or email to get my new entries and more scrumptious recipes with reviews.