Fig Hazelnut and Coffee Cheesecake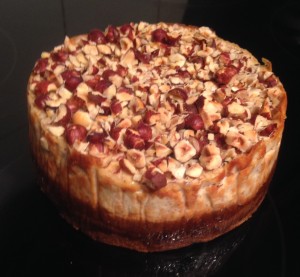 You may have noticed across the past few months I have been baking consistently with figs.
Not until last year had I eaten one, let alone baked with this fruit.
Generally when I see fruit that I have never baked with I always like to do my research and make up a few variations of recipes (half the time they don't make the blog…hello startfruit, dragonfruit, cantaloupe, guava cake experiments (and the list goes on).
It seems fig is one of the special fruits which seems to work so well, additionally with so many flavour pairings.
Thinking in an Italian baking head space (ricotta, espresso etc) I ended up coming up with the flavour pairing of coffee, hazelnut, fig and caramel. Which actually work a treat!
This cheesecake is very much for the sophisticated palate and is super additive!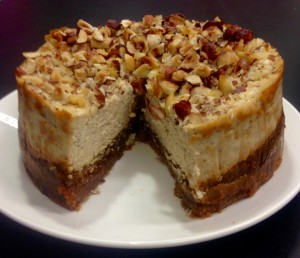 Ingredients:
250g caramel biscuits (I used Lotus)
100g butter
250g dried figs (12)
2 tbsn orange liquor
330g cream cheese
150g sugar
500g ricotta
2 eggs
90ml espresso coffee
100g hazelnut meal
Method:
Pre heat the oven to 180c degrees and line a 22cm spring form cake tin with baking paper.
Place the biscuits and butter in a food processor and blitz until the mix resembles fine breadcrumbs.
Pour the mix into the cake tin and press with fingers over the base of the tin until flat.
Place the tin in the fridge to harden.
Dice up the fig coarsely and place in the saucepan with the liquor and 130g of water on a medium heat.
Place a lid on the pan and let the mix boil.
Once boil remove the lid and stir constantly until the water is absorbed and the figs have started to breakdown.
Place the mix into the food processor and process until the figs are blitzed and resemble a paste.
Spoon the fig mix over the biscuit base and place back in the fridge.
Using electric beaters whisk the cream cheese and ricotta until smooth.
In a separate bowl beat the eggs and sugar until pale and creamy.
Add the egg mix, hazelmeal and coffee into the cheese mix and whisk until well combine.
Pour the mix unto the cake tin and bake for 50 minutes.
Turn off the oven and leave the door slightly open.
Once the oven is cold place the cake in the fridge to fully set for 2 hours.
Noes:
I used Lotus branded biscuits for the base. If you cannot fine caramel flavored biscuits Arnott's Nice biscuits would be a good replacement.
I decorated the cake by scattering roasted hazelnuts and icing sugar over the top.
Step 2
Step 3
Step 9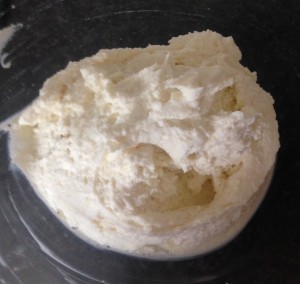 Step 10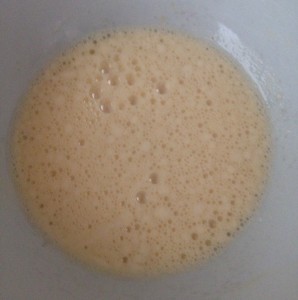 Step 11
Step 12
Step 13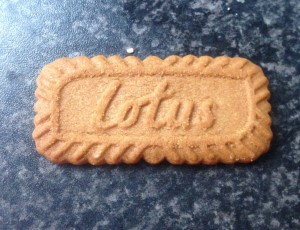 Notes
Like this recipe? Subscribe via RSS or email to get my new entries and more scrumptious recipes with reviews.