Rice Flour, White Chocolate and Coffee Brownies
This recipe is the most simple and quick recipe you will come across. This took me a whole of 5 minutes to prepare and 5 minutes to decorate.
I recommend you read the notes to this recipe before planning to bake as it does have a defined 'textural' consistency.
This recipe made it to my blog due to the interesting texture, simplicity, gluten-free bake and cost efficiency. Also, it is quite the tasty flavor (hmm coffee).
Introducing the unique Rice flour, white chocolate and coffee brownies.
Ingredients:
90g white chocolate
70g butter
190g brown sugar
3 eggs, beaten
½ tsn vanilla essence
½ tsn almond essence
160g-rice flour
1 tbsn instant espresso coffee granules
150ml thickened cream
Method:
Line a 30cm x 15cm baking tray with baking paper and pre-heat the oven to 180c degrees.
Place the butter and sugar in a microwave safe bowl and microwave on medium for 1 minute or until the chocolate is half melted. Stir with a metal spoon until smooth and glossy.
With a hand whisk beat in the instant coffee until dissolved then beat in the remaining ingredients.
Pour the mix into the tin and place in the oven for 30 mins or until a skewer inserted into the centre comes out clean.
Tap the tin on a table lightly to get rid of air bubbles before placing in the oven (otherwise the brownie will get bubble like domes on the base).
Cool in the tin for 10 minutes for place on a cooling rack and cut.
Whip up the thickened cream with electric beaters until peaks form and pipe on the top of each brownie then sprinkled with a little coffee granules on top to decorate.
Notes:
The title of this brownie does state rice flour, however I have made this a few times and suggest that if you are not a real fan of texture (rice flour is much more granular than other flours) then substitute it with normal plain flour or gluten free plain flour to stay gluten-free.
Like this recipe? Subscribe via RSS or email to get my new entries and more scrumptious recipes with reviews.
The ingredients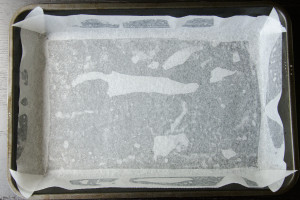 Step 1
Step 3
Step 6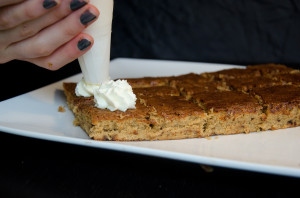 Step 7
Step 7
Step 7