This recipe came about off the back of a cocktail and an impulse buy, A Midori and Cherry cocktail and a random melon essence purchase with no recipe to use it in.
The cocktail was super delicious but needed an acidic kick and the melon flavour of the liquor got me thinking of making a recipe with the essence I had brought.
Sometimes my recipes are as random as that.
I replaced the Midori with the essence and added lemon to balance the flavours (the sweetness without acid in the cocktail was quite overwhelming). As quite a bit of lemon was needed the recipe had to allow for a high yield of liquid, in which my head went straight to jelly, custard, ice-cream…etc. After playing around with some recipes the ice-cream was a solid winner. Super creamy, easy to make and so tasty with a lovely floral zest.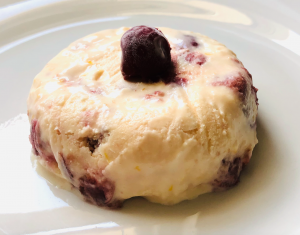 Ingredients:
120g caster sugar
80ml lemon juice
2 eggs
2 egg yolks
1 + ½ tsn lemon zest
1 + ½ tsn melon essence
70g cherries, seeded
250g cream
Method:
Place half the sugar (60g) and the lemon juice into a saucepan on low/medium, stirring until the mix comes to a syrup thickness consistency. Leave aside to cool.
Place the eggs, yolks and remaining 60g sugar into a heat proof bowl over a saucepan of simmering water.
Whisk the egg mix with a hand held whisk until the mix becomes frothy, remove off the heat.
Using electric beaters whisk the egg mix along with the lemon zest and the melon essence until the mix is thick and creamy.
Add the cooled syrup to the egg mix and beat through until well combine.
Dice the cherries into small bite sized pieces.
In a separate bowl whisk the cream with electric beaters until peaks form.
Fold the cream and cherries through the egg mix until combine.
Pour the mix into a 10cm x 10cm container and place in the freezer for 4 hours or overnight.
Use an ice-cream scoop to serve and enjoy!