Jackfruit White Chocolate Macadamia Brittle Ice-cream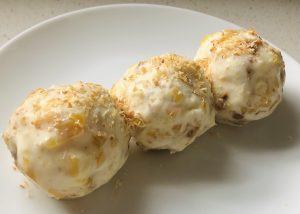 For some time Jackfruit has been on my radar, but being a vegetarian most of my experience with this fruit has been via savory dishes as a meat replacement. Being such a versatile fruit, I decided to make it the feature of a dessert.
With such an interesting taste to work out flavour combos I opted to look at the closest fruits I deemed most similar, these being mango, apricot and pineapple.
After playing around with a few apricot, pineapple and mango flavour pairings with jackfruit I landed on a killer recipe. White chocolate as the foundation flavour, macadamia brittle crunch flavour bombs and 2 different jackfruit textures for smoothness and chewiness.
I actually didn't think this would be a successful bake but was so surprised I ended up redoing the recipe to this time write down the ratios!
Ingredients:
160g dried Jackfruit
50g caster sugar
30ml cold water
100g Macadamia, salted
10g butter
110g white chocolate
800g vanilla ice-cream
¼ tsn caramel essence (optional)
Method:
Place 100g of the jackfruit into a bowl of boiling water, leave for 10 minutes, drain then dice into small pieces, set aside for later.
Chop the remaining 60g jackfruit into small pieces.
Chop up the nuts into small chunks.
Line a baking tray with baking paper.
Place the 30ml cold water and sugar in a saucepan and heat on medium heat, cooking, stirring until sugar has dissolved.
Turn the heat to high, add the nuts and allow the mix to boil until it reaches 110c degrees on a candy thermometer or begins to turn golden, remove from the heat.
Quickly stir in the butter.
Pour mix onto the baking paper, leave aside until completely cooled.
Finely chop up the white chocolate.
Place the ice-cream into a bowl and allow to soften for 10 minutes.
Chop the nut brittle into small pieces and place into the bowl with the ice cream.
Add the jackfruits, essence and white chocolate to the ice-cream and stir until well combined.
Pour into a container and place into the freezer for 4 hours+.
Step 1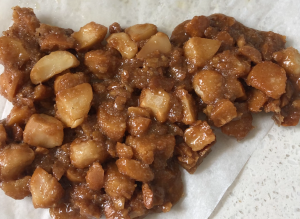 Step 8