Sweet Potato Spiced Pie

This recipe was created as I wanted to make a pumpkin pie for a Christmas catch-up dinner, however had limited time to make the pie and had no pumpkin on hand, only sweet potato. Thus a sweet potato pie was created.
After the sweet potato in the pie was deemed a dinner success I decided that I would play around with the ingredients to take the pie from great to scrumptious.
After a few alternations and tweaks the below recipe was formed.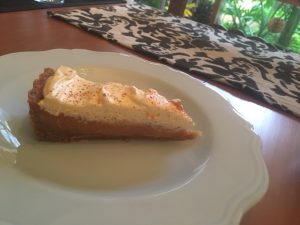 Ingredients:
Base:
250g butternut biscuits
½ tsn ground cinnamon
¼ tsn ground ginger
¼ tsn all spice
100g butter, melted
Filling:
500g sweet potato
420ml milk
100g sugar
1 + ½ tsn ground cinnamon

½ tsn ground ginger

¼ tsn all spice

2 eggs
Topping:
300ml cream

1 tsn vanilla essence

½ tsn ground cinnamon

20g icing sugar
 Method:
Preheat the oven to 160c degrees.

Place all the base ingredients into a food processor and blitz until well combine and sand like in texture.

Pour the mix into a 25cm pie dish and flatten with fingertips on the base and sides of the tin, place in the fridge to set.

To prepare the potato cut into cubes and place into a saucepan filled with water.

On a high heat boil the potato until a skewer inserted into a piece glides in and out easily.

Place the pumpkin with 80ml of milk into the food processor and blitz until pureed, set aside until cooled.

Add the remaining milk, sugar, spices and egg to the potato mix and beat with a hand whisk until well combined.

Pour the potato filling into the prepared base and bake for 70 minutes or until set when touched on top.

Place the pie on a cooling tray to cool.

Meanwhile make the topping by whipping the cream with electric beaters until soft peaks form.

Add the remaining ingredients and beat on low until peaks form.

O

nce the pie is cold top with the cream and leave in the fridge for 4 hours to fully set before serving.
Step 3

Step 4

Step 6

Step 7

Step 8
Like this recipe? Subscribe via RSS or email to get my new entries and more