Snickers Babka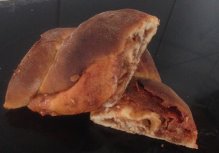 This recipe has actually come from a snickers rice bubble slice and a peanut and bacon babka fail.
I was determine to make something with the snickers flavors but in a really untraditional way. After experimenting I actually realised that melted caramel, chocolate and peanuts work very well in the bread format.
The flavors really come though in this recipe and as the base of the recipe is bread and not cake the sweetness is not too overpowering. This recipe is a really moreish bread to eat!
Ingredients:
Bread
210g flour
25g sugar
4g yeast
1 egg
85g warm water
35g butter, at room temperature
Filling
40g butter
70g chocolate
30g icing sugar
50g chopped peanuts
70g caramel (soft caramel chews)
Method:
Place the flour, sugar and yeast in a bowl and mix until combine.
Whisk the egg and add to the mix with luke warm water.
Using a wooden spoon stir until the mix is combining and resembles a dough.
Flour the bench and place the dough on the flour. Kneed for 3 minutes of until the dough is elastic and smooth.
Place the mix in an oiled bowl and using your hands massage the butter into the dough until well combine and glossy.
Place plastic wrap over the bowl and leave in a warm place for 2 hours or until the dough triples in size.
Dice up the cranberries.
To make the filling place the butter in a bowl and heat until boiling in the microware.
Add the chocolate and allow to sit for 1 minute. Stir the chocolate until the mix is smooth.
Add the icing sugar to the chocolate mix as well as the peanuts.
Meanwhile, punch down the dough and knead until smooth.
Roll the dough out to 40cm x 20cm with a rolling pin.
Spread the filling over the dough evenly.
Place the caramel in the microwave and heat until the caramel is smooth. Drizzle over the filling.
On one of the short ends of the dough brush with water with a pastry brush.
Roll up the dough from the small end with no water and finish at the water end (the water will seal the roll).
Place the dough onto the baking tray, cut a slit down the middle almost to the top of the roll.
Plat the 2 halves by crossing them over each other, place the plastic wrap back on the bread and leave for 30 minutes.
Pre-heat the oven to 190c degrees and place the bread in the oven for 25 minutes or until the bread is golden brown.
Cut the slightly cooled bread into slices and enjoy!

Step 4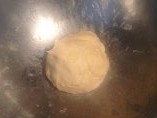 Step 5
Step 6
Step 10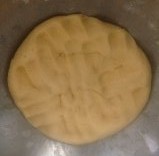 Step 11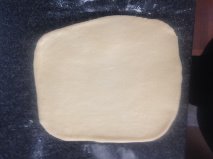 Step 12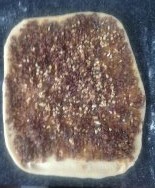 Step 13
Step 16
Step 18
Step 19
Like this recipe? Subscribe via RSS or email to get my new entries and more scrumptious recipes with reviews.