Rice and Almond Tart
If you are a fan of almonds and want to try a recipe with a very interesting and unique texture then this tart is for you.
I'm not really a big rice eater nor almond, however incorporating rice in a tart seemed interesting and got me wanting to experiment.
This tart is not super sweet but goes very well with a dollop of cream or ice-cream on the side for a filling sweet treat.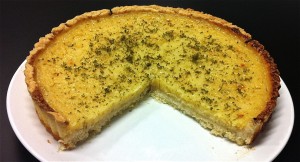 Ingredients:
2 cups of rice milk
½ cup white sugar
1 tsn cinnamon
½ cup medium grain rice
2 eggs
½ cup almond meal
½ tsn almond essence
1 tbsn lime rind finally grated
1 x 28cm sweet short crust pastry shell or store brought sweet crust pastry.
Method:
If using store brought pastry, roll out on a lightly floured surface and transfer pastry into a lightly greased 25cm loose-bottomed tart pan. Refrigerate for 30 minutes. If you are using a bought tart shell omit this step.
Preheat the oven to 200c.
Line the pan with baking paper and fill with rice (this is called blind baking which stops the center of the pastry in the tart rising).
  Bake for 15 minutes, remove paper and rice and cook for a further 5 minutes until ever so slightly browned.
Place milk, sugar and cinnamon in a pan and stir over the stove on low until the sugar is dissolved. Boil, add the rice then simmer covered, stirring every 5 minutes for 25 minutes or until the liquid has been absorbed by the rice. Cool.
Blend the rice with a mixer/food processor until smooth.
Mix the rice mix, eggs, almond meal, almond essence and rind in a bowl.
Pour into the pastry shell and cook on 180c in the oven for 20 minutes until golden.
Notes:
This can be served with cream or ice-cream.
Like this recipe? Subscribe via RSS or email to get my new entries and more scrumptious recipes with reviews.