Sweet Potato and Orange Cake
Hello sweet potato again. This is the second time this ingredient has popped up in my blog (a la sweet potato chocolate brownie posted in January 2013).
Believe it or not but this cake actually tastes very similar to carrot cake, however don't have any identical ingredients…I must post my carrot cake recipe at some stage. It took me a few different recipes but my version is something else!
If you're a fan of oranges you will definitely like this as the orange flavor is much stronger than the sweet potato.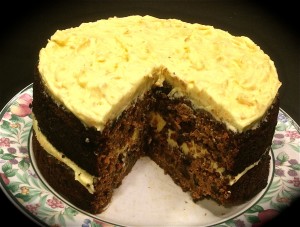 Ingredients:
1 ¾ cups plain flour
2 tsn baking powder
1 tsn bicarbonate of soda
1 tsn ground cinnamon
 1+ ¾ cups brown sugar
¾ cup sultanas
2/3 cup chopped walnuts
500g sweet potato grated
3 eggs
1 cup butter
1 orange (you will need 2 tbs of finely grated orange zest and 1 tbsn of the juice from this)
Icing:
50g butter
250g cream cheese
1 tbs finely grated orange zest
2 cups icing sugar
Method:
Preheat the oven to 180c and line a 25cm cake tin with baking paper.
Combine flour, baking powder, bicarb, cinnamon, sugar, sultanas, walnuts and potato in a bowl, stir to combined.
In another bowl beat eggs, butter, zest and juice. Pour wet mix into the dry mixture, stir to combine the batter.
Pour into pan and bake for 45 minutes. Following decrease the oven temperature to 160c and bake for a further 30 minutes or until a skew inserted in the cake comes out clean.
Cool the cake in the tin for 10 minutes, then transfer onto a cooling rack.
Make the icing recipe by combining the ingredients together, beat until glossy and smooth
Cut the cake in half and spread half the icing in the cake and the remaining on top of the cake.
Notes:
I'm not a massive fan or walnuts and have made this many times by omitting this ingredient where the cake turns out perfectly fine.
There is not much orange in this cake but don't be tempted to add more in. You will be surprised how strong the orange taste is with the little amount in the batter.
Like this recipe? Subscribe via RSS or email to get my new entries and more scrumptious recipes with reviews.