Spiced Ginger and Chocolate Bread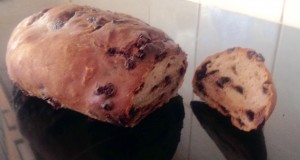 I do occasionally dabble with dough and on this occasion I thought I would pair sweet (but tart) and spicy flavours to take savory bread to the next level.
So what's the first thing that comes to mind when you think sweet…chocolate, that's right.
We eat sweet Banana Bread for breakfast so why not Chocolate Bread? Chocolate alone was a bit mundane (bakeries do this nowadays) so I decided to add in some spices to give a few kicks to enhance the chocolates taste and the breads flavour. Thus my Spiced Ginger and Chocolate Bread was born.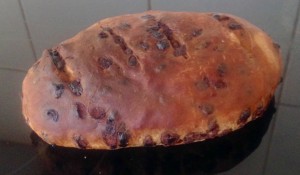 Ingredients:
400g white bread flour
1 tbsn sugar
3 tsn ground ginger
½ tsn cinnamon
½ tsn ground cloves
Pinch chili Powder
1 tsn salt
½ tsn dried yeast
1 tbsn oil
160g dark (70% cocoa) chocolate chips
Method:
Mix together the flour, sugar, ginger, cinnamon, cloves, chili powder and salt in a bowl.
Place the yeast and 280ml of warm water in a bowl for 5 minutes or until it bubbles.
Stir the oil with the warm water then pour into the flour mix, stir.
Lightly flour a bench and knead the dough for 10 minutes or until smooth and elastic.
Place the dough in a bowl and cover with cling wrap or a tea towel for 1-2 hours to prove (or until it doubled in size).
Add the chocolate chips and combine with the dough.
Lightly flour the bench again and knead the chocolate through the dough for 2 minutes.
Line a baking tray with baking paper and shape the dough into a bread shape and place on the tray.
Cover the bread again and leave to prove for another hour.
Pre-heat the oven to 220c degrees and place a small bowl of water in the bottom of the oven to stop the bread drying out.
Once proved cut slits in the top of the bread and place in the oven for 25 minutes or until the load sounds hollow.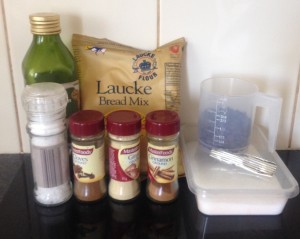 Ingredients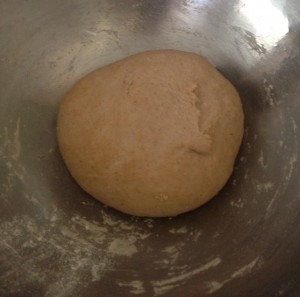 Step 4

Step 11
Like this recipe? Subscribe via RSS or email to get my new entries and more scrumptious recipes with reviews.