Elderflower and Plum Soufflé
This recipe's flavor pairing has come about by a chef friend giving me an interesting flavor combo he thought would work well – and that it did!
I trialed elderflower & lemon, elderflower & blackberry and elderflower & berries flavour combo's but just was not getting the 'wow' flavor I was after.
It was when I tried the plums with the elderflower I found an interesting complementing flavor mix I had been looking for.
I wanted to make something different outside of my usual cakes and slices, which I have been skewing towards lately. Based on this I did some trialing and thought it would be interesting to transform the usual cheese or chocolate soufflé into an elderflower and plum soufflé. Outcome = a 4 ingredient treat success!
Ingredients:
4 eggs
1/3 cup sugar
200g plums
4 + ½ tsn elderflower cordial
Method:
Pre-heat the oven to 175c degrees.
Spray 4 x 1 cup ramekins with oil spray.
Dust the ramekins with sugar, coating on the inside.
Separate then eggs with whites in one bowl and yolks in the other.
With electric beaters beat the egg whites until soft peaks form.
Add 2 tbsn sugar to the eggwhites and beat until stiff peaks form.
In the egg yolk bowl beat the yolk and remaining sugar for 5 minutes until pale and creamy.
Place the deseeded plums and a large scoop of the yolk mix into a food processor until the mix is a smooth consistency.
Add the plum mix and cordial to the yolk mix and beat until well combine.
Spoon a quarter of the eggwhite mix into the yolk mix and fold until combine.
Add the remaining egg whites and fold until just combine with a few white streaks.
Pour the mix into the ramekins and fill to the top and place in the oven for 25 minutes.
Remove from the oven and serve with some whipped cream or vanilla ice cream.
Notes:
The longer you bake for the more cake like and less creamy like the souffle will be.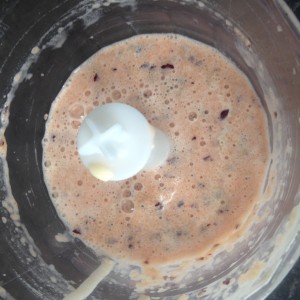 Step 8
Step 10
Step 11
Like this recipe? Subscribe via RSS or email to get my new entries and more scrumptious recipes with reviews.