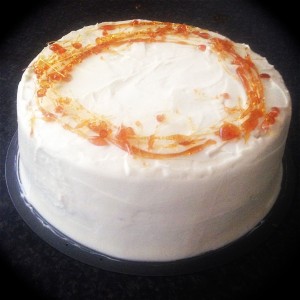 Hummingbird Cake
I actually just realised, I love pineapple but don't recall EVER making a cake with this ingredient…
Being a fan of making different and traditional recipes I became familiar with an American cake treat – the Hummingbird cake.
There are actually quite a few variations of this cake, some with carrot, some with banana, some with walnuts, some with pecans. However, after doing a little investigating I managed to track down the original recipe that was created by Mrs. L.H. Wiggins of North Carolina in February 1978!
Needless to say I opted for the ingredient mix that she used, however my recipe has key shortcuts and little tweaks to enhance the flavour. Outcome = This cake is sooo tasty. Think banana cake with a hint of a spiced carrot cake twist (thanks to the cinnamon and nuts).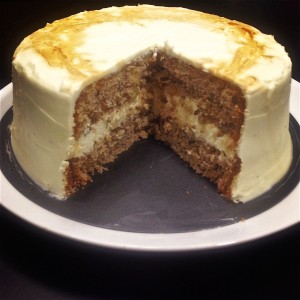 Ingredients:
440g can of pineapple
180g butter
275g white sugar
1 tsn vanilla essence
2 eggs
1 medium banana
90g desiccated coconut
80g pecans
300g self-raising flour
1 tsn cinnamon
Icing
370g cream cheese
60g butter
150g icing sugar
30ml pineapple syrup (reserved from earlier)
Method:
Grease and line a 23cm round cake tin with baking paper.
Pre-heat the oven to 180c fan forced.
Drain the can of pineapple reserving the juice for later.
Using a food processor process the pineapple pieces until coarsely chopped.
Process the pecans.
Process the banana until smooth.
Using electric beaters beat the butter and sugar until creamy and smooth. Add in the eggs one at a time, beating in between each addition.
Stir in the pineapple, banana, coconut and pecans until combined.
Add the flour and cinnamon, stir to combine.
Pour mix into the cake tin, level out with a spoon and bake for 50 minutes or until the skewer in the center comes out clean.
Let the cake stand for 15 mins then transfer onto a cooling rack.
To make the icing add all the ingredients into a bowl and stir with a wooden spoon until just combined.
Using electric beaters beat for 5 minutes until light and fluffy. Place in the fridge until cake is cooled.
Cut the cake in half, spread icing in the center, then the remainder of the icing around the outside of the cake.
Notes:
Decorate with any leftover pecans or you can do what I did which was place white sugar in a pan on the stove until it caramelises. Then using a fork place in the caramel and swirl over the cake in a circular motion until the caramel is used up.
You can replace the pecans with walnuts.
Or if you wish, you can replace the banana with a grated carrot.
Ingredients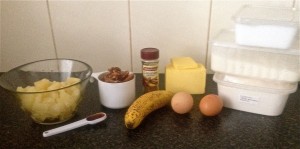 Step 11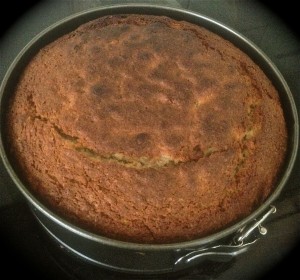 Step 14
Like this recipe? Subscribe via RSS or email to get my new entries and more scrumptious recipes with reviews.
See the original 1978 recipe at http://www.southernliving.com/food/entertaining/hummingbird-cake.