Boozy Mocha Yoghurt Ice-Cream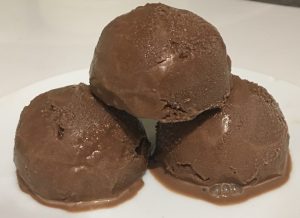 You may have noticed that I am a big fan of using healthier alternative ingredients vs. traditional recipe ingredients (as long as taste is not hindered).
I commonly use apple puree to replace butter, cocoa to replace chocolate, and avocado instead of cream etc etc…and the list could go on for a while… So after recently eating a mocha flavoured ice-cream I didn't surprise myself when I decided to take the coffee and chocolate flavours and reinvent the ice-cream with a more healthier substitute – low fat yoghurt.
And yes I do bake with yoghurt quite a bit but it's usually via means of cake batter, not as the base of an ice-cream. To continue the substitute trend I used cocoa powder with some brown sugar as a low fat alternative to milk chocolate.
Lastly to make this ice-cream a little cheeky and further its decadence, I added a solid pouring of Baileys to strengthen the coffee flavour and increase the creaminess.
This Mocha Yoghurt Ice-Cream is moreish and additive without it hurting my hips too much!
Ingredients:
160ml espresso coffee
160ml Baileys
100g brown sugar
400ml vanilla yoghurt
60ml cocoa powder
Method:
Place the boiling coffee into a bowl with the sugar.
Stir the coffee until the sugar is dissolved, leave aside until cooled.
Add the Baileys to the sugared coffee mix and stir until combine.
Pour the mix into a food processor, add the cocoa powder and the yoghurt.
Blitz mix until creamy and well combine.
Place the mix into a bowl then into the freezer for 2 hours.
After 2 hours spoon the mix back into the food processor and blitz for 2 minutes, place bowl back in the freezer for 1 hour.
After the 1 hour place the mix into the food processor 1 last time for 1 minute.
Pour the mix into the bowl, freeze for 1 hour or until ice-cream is completely set.
Scoop into a bowl and enjoy!
Step 2
Step 3
Step 5
Step 10
Like this recipe? Subscribe via RSS or email to get my new entries and more scrumptious recipes with reviews.