Pumpkin Date Maple Bread
This next recipe was an idea that came from combining banana bread and pumpkin cake to make a pumpkin bread, however I put an interesting twist on this.
Instead of using pureed pumpkin I have opted for something a little different by using pumpkin soup.
Yes this does sound weird…most of my recipe do, however this bread sliced and toasted with butter is sooo moreish, it will have you saying banana bread what?
The soup makes the texture extra smooth and is cuts out the process or baking and blitzing up fresh pumpkin.
The maple syrup, nuts and dates works magic with the palate of pumpkin.
Ingredients:
260g cream of pumpkin soup
120g brown sugar
2 eggs
40g butter
120ml maple syrup
80g dates
130g walnuts
180g self raising flour
270g flour
1 tsn mixed spice
½ tsn group cinnamon
½ tsn ground nutmeg
½ tsn ground ginger
10g oats
Method:
Pre-heat the oven to 180c degrees and line a 21cm x 10cm loaf tin with baking paper.
Using electric beaters whisk the soup, sugar, eggs, melted butter and maple syrup in a bowl for 3 minutes until creamy and smooth.
Place the dates in a food processor and blitz until diced.
Place the walnuts in a food processor and blitz until diced.
Place the dates, 100g of the walnuts, the flours and spices in the mix and whisk until well combine.
Pour the mix into the tin and top with the remaining 30g of walnuts as well as the 10g of oats.
Bake in the oven for 1 hour or until a skewer inserted in the center comes out clean.
Rest in the tin for 5 minutes before placing on a cooking rack.
Once cooled sprinkle extra maple syrup over the top, cut unto slices and serve with butter.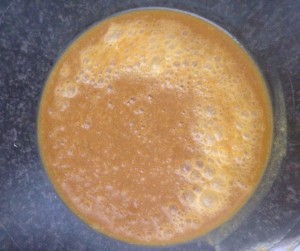 Step 2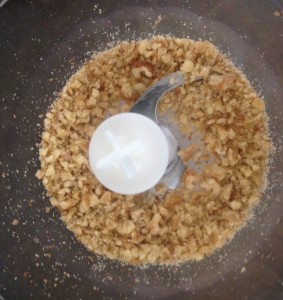 Step 3
Step 4
Step 8
Step 9
Like this recipe? Subscribe via RSS or email to get my new entries and more scrumptious recipes with reviews.