Sago Bread Spiced Chocolate Pudding Cake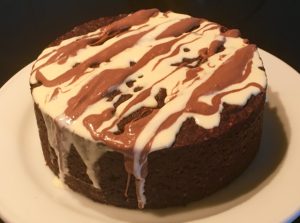 For a long long time I have been experimenting with Sago but until today all attempts to bake with this ingredient have been fails, really really big fails.
Inspired by my own past breadcrumb based cake I again opted for breadcrumbs to ensure the foundation of the cake was moist and stable.
By using breadcrumbs made from gluten free bread, this cake is easily gluten friendly. By using the dates as a natural sweetener this allowed for a minimal amount of sugar required for the cake.
The cinnamon and chili add complementary flavor layers to the chocolate, pushing it to the next level in taste.
A super easy, low sugar and low fat cake that is perfect to for a dessert or special treat. I was super impressed with how decadent this cake actually tasted.
Ingredients:
30g sago
250ml milk
30ml butter
175g dates
50g brown sugar
70g breadcrumbs
1/4 tsn cinnamon
Pinch chili powder
30g cocoa powder
1 tsn bicarb of soda
1 egg
Extra:
Method:
Pre-heat the oven to 175c degrees and line a 20cm cake tin with baking paper.
Place the sago in a bowl with the milk and leave for 4 hours in the fridge.
Place the dates and melted butter in a food processor and blitz until smooth.
Add the sugar, breadcrumbs, cinnamon, chilli powder and cocoa and blitz until well combine.
Place mix into a bowl with the sago milk mix and egg and whisk with a hand whisk until well combined.
Pour the mix into the cake tin.
Place the tin into a roasting tray and add enough boiling water to come halfway up the side of the tray.
Place a piece of aluminum foil on the top of the cake or a glass lid.
Bake in the oven for 60 minutes of unit a skewer inserted in the center comes out almost clean.
Place on a cooling rack until cold.
Sprinkle with icing sugar and drizzle with cream or custard.

Step 3

Step 3

Step 4

Step 6

Step 7
Like this recipe? Subscribe via RSS or email to get my new entries and more scrumptious recipes with reviews.