Easy Gateau St Honore

Names after the French Patron saint of bakers and pastry chefs, the Gateau St Honore is another French beautiful pastry based dessert. Think crockenbush with a cookie dough base that is fixated together with beautiful toffee.
The cream puff filling adds the soft and fluffy texture, the choux pastry brings a moreish smoothness and the toffee provides a sweet crunch to the treat.
A great mix of texture and simple (but addictive) flavour.
I have modified this a little to make it easier and a little more appealing (I have piped the filling into the puffs and made a vanilla cream filling instead of crème chiboust). I'm not one to change traditional recipes but the crème chiboust is way too temperamental and to be honest will be difficult to master – unless you are a professional chef.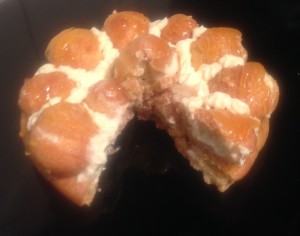 Ingredients:
Pastry:
1 cup flour
4 tsn icing sugar
50g butter
1 egg yolk
2 tbsn cold water
Choux Pastry:
125g butter
250ml water
1 cup flour
4 eggs
Toffee:
1 + ½ cup sugar
1 cup sugar
Crème:
450ml-thickened cream
90g icing sugar
2 tsn vanilla essence
Method:
Pre-heat the oven to 200c degrees.
Place flour, sugar and butter in a food processor and blitz until mix resembles fine bread crumbs.
Add egg yolk and water and blitz until dough forms a ball.
Roll dough in between 2 sheets of baking paper with a rolling bin until you have a 25cm round circle.
Place dough in the fridge.
On baking paper draw 15 x 4cm circles, 2cm apart.
Place the butter and water in a saucepan on medium heat and stir until well combine.
Add the flour to the water mix and whisk with a hand whisk until a ball is formed.
Take off the heat and whisk in eggs, one at a time.
Spoon mix into a piping bag and pipe the pastry into the circles.
With the remaining pastry pipe a border around the biscuit base.
Place in the oven for 10 minutes.
Turn the heat down to 180c degrees and bake for a further 15 minutes.
Using a knife pierce the balls and leave in the oven for a further 5 minutes to dry out.
To make the toffee place the sugar and water in a saucepan on a high heat on the stove until the mix becomes lightly golden (this will take around 15 minutes).
Using tongs dip all the puffs bar 3 into the toffee and place around the border of the base.
With the remaining 3, roll in the toffee and place in the center of the pastry.
Spoon the remaining toffee around the puff border, leave to cool.

Step 2
Step 8

Step 11
Step 14
Like this recipe? Subscribe via RSS or email to get my new entries and more scrumptious recipes with reviews.