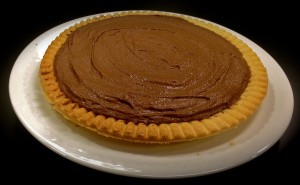 Healthy Chocolate Mousse Tart
Yep, you read that correctly. No cream, sugar or butter naughtiness. The only ingredient in this that makes it a chocolate mousse technically is the chocolate!
Introducing the high protein, low GI, (depending on the yoghurt brand you use) healthy (low fat) chocolate mouse.
Now this recipe is for a mousse, however the last time I made this I placed the mousse into a sweet short crust tart shell and not one person realised that it wasn't a full fat chocolate naughty tart.
Such a simple recipe you will never go back to a cream based mousse again!
Ingredients:
200g dark chocolate
350g soft silken tofu, drained
2 tsn vanilla essence
1/8 tsn almond essence
½ cup fat free plain yoghurt
Method:
Melt the chocolate in a microwave safe bowl on medium in the microwave for 1 minute or until the chocolate starts to melt slightly. With a metal spoon stir until chocolate is smooth and melted.
Place the tofu and essence in a food processor and blend until smooth.
Add chocolate and process until combined and smooth.
Pour mix into a bowl with yoghurt and fold to combine.
Pour mix into a read made short crust pastry shell (see notes) and place in the fridge until ready to serve.
Notes:
As mentioned I bough a sweet crust already made pastry shell for this. All I did was follow the directions on the pack and once cooled placed the mousse into the shell and then refrigerated.
You can also decorate with a cup of mixed berries to serve or with some shaved chocolate curls.
For more information on how to make the pastry shell please see my spiced pumpkin pie recipe for details on 3 how to make the pastry from scratch.
Like this recipe? Subscribe via RSS or email to get my new entries and more scrumptious recipes with reviews.