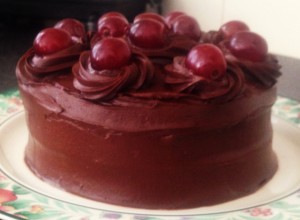 Red Wine Chocolate Cake
My last post featured the Chocolate Zucchini cake, which I would say was one of the most dense cakes I have ever made, however this cake I am about to introduce you to would be one of a few that is an exception.
Recently I have been drinking red wine a lot more than I usually do (I'm not really a wine or beer drinker, more a spirit with mixers).  Based on this new palate I seem to have I thought it could be fun to experiment with red wine in a cake (many cakes have liqueur's so this isn't that different..is it)?
From my posts thus far you can start to get the notion that I am a MASSIVE chocolate fan, where again this cake demonstrates this. I promise the next posts will be chocolate free for a bit of a change 🙂
For this Red Wine Chocolate Cake you will need:
Ingredients:
1 + ¾ cups plain flour
¾ cocoa powder
2 tsn bicarbonate of soda
1 tsn baking powder
1 + ½ cups white sugar
2 eggs
1 cup milk
1 cup + 20ml red wine
½ cup butter
1 tsn vanilla essence
Method:
Preheat oven to 180c and line a 25cm spring form cake tin with baking paper.
Add all the dry ingredients into a bowl via a sieve and stir to combine.
Then add all the wet ingredients and beat with an electric beater on medium for 2 minutes until the batter is smooth.
Pour batter into the cake tin and bake for 40 minutes or until the skewer comes out clean.
Cool the cake for 5 minutes in the tin then transfer to a wire cooling rack.
Notes:
This cake is awesome and the red wine is not over powering at all.
If you want to make cupcakes instead pour batter into cupcake patties and cook for 15 minutes.
I decorated my cake with chocolate cream cheese frosting that had red wine also incorporated into it.
Like this recipe? I recommend you also check out my Chocolate Zucchini Cake. Additionally please do subscribe via RSS or email to get my new entries and more scrumptious recipes with reviews.