Sago and Dried Fruit Boiled Pudding
If you visit my blog frequently you will recall I went on a baking journey of 15 recipes from the Australian Green & Gold cookery book published by New Holland, in which features 100's and 100's of traditional Australian recipes from 'experienced housewife's and cookery experts'.
From the 15 recipes I made 3 were key standouts that I couldn't ignore and had to add to my Aussie traditional category on this blog.
Following the Bread Fritters, the Sago Plum Boiled Pudding was my next favorite.
The recipe I have posted follows exactly as per the traditional, apart from a few slight tweaks in the volumes of some ingredients to make it just that extra bit flavorsome and moist (it was originally fairly dry but delicious).
As 4 recipes I made were boiled puddings I was able to understand the optimal consistency of the Sago Plum Boiled Pudding.
Also, I did tweak the name to be a little more appropriate, technically the recipe doesn't have any plum in it at all…..
It may take aaaggggeeesss to cook but this pudding is well well worth the wait.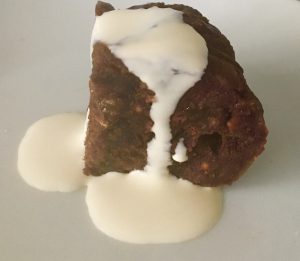 Ingredients:
40g sago
120ml milk
50g butter, melted
50g breadcrumbs
140g dried fruit (dates/sultanas/currents/cranberries/cherries/raisins)
60g sugar
1 tsn ground cinnamon
½ tsn ground ginger
½ tsn ground mixed spice
1 tsn bicarb of soda
Method:
Place the sago into a bowl and cover completely with the milk. Allow the sago to soak, absorbing the milk for at least 2 hours.
Add the butter, breadcrumbs, dried fruit, sugar, spices and bi-carb of soda into the bowl of soaked sago and combine all the ingredients well with your hands.
Wet a muslin pudding cloth and ring out to remove access water.
Dust the cloth with flour (this will stop the pudding from sticking to the cloth when boiled).
In the bowl shape the pudding mix into a circle shape and place in the center of the cloth on the flour.
Pull the cloth around the pudding and tie into shape with an elastic band or cooking string.
Steam the pudding in a large pot filled with water on a simmering heat for 2-2.5 hours, ensuring the pudding is completely immersed in the water the whole time (topping up the water level if need be as it steams).
Once cooked let the pudding sit in a sieve for 20 minutes over a bowl (to catch any excess water) then remove the elastic band and cloth.
Place the pudding onto a plate and serve with custard or double cream.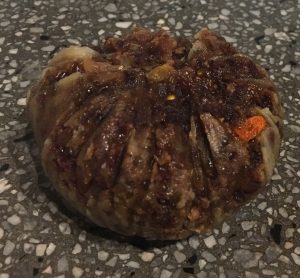 Like this recipe? Subscribe via RSS or email to get my new entries and more scrumptious recipes with reviews.