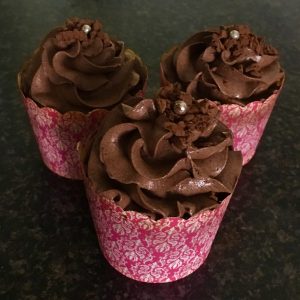 This recipe is not the first time I have baked with Miso paste (see my Miso Doughnuts), so it's safe to say I have previously identified that Miso can actually work quite well on the sweet side of eating.
However, what I haven't done is paired the miso flavor with another taste that it can work in balance with. After a few pairing combo trials, it was the sturdy and always reliable dark chocolate that came up trumps.
What the miso did was took the chocolate to the next level, placing a beautiful twist on the flavor and turning it into a completely unique palate.
Ingredients:
Cupcake:
160g self-rising flour
½ tsn salt
150g brown sugar
50g cacao powder
2 eggs
1 tsn vanilla essence
½ cup oil
135ml buttermilk
2 tsn miso paste
Icing:
60g cacao powder

240g butter, at room temperature

80g brown sugar

1 tsn miso paste
Method:
Preheat the oven to 180c degrees and line a 12 cupcake patty tin with patty cases.

Sieve the flour, salt, sugar and cacao powder into a bowl and stir to combine.

Place the eggs, vanilla, oil, buttermilk and miso into a bowl and using a hand whisk beat until combine.

Pour the wet mix into the dry bowl and stir until well combined.

Pour the mix evenly into the patty cases.

Bake in the oven for 14 minutes or until a skewer inserted in the middle comes out clean.

Place the cupcakes onto a cooling rack until cooled.

Make the icing by placing all ingredients into a bowl and beating with electric beaters for 5 minutes or until light and creamy. Place in the fridge to harden.

To ice the cupcakes place the icing into a piping bag with a star nozzle and pipe evenly on all cupcakes.

Enjoy!

Step 3

Step 4

Step 7
Like this recipe? Subscribe via RSS or email to get my new entries and more scrumptious recipes with reviews.