Rhubarb Orange and Ginger Cake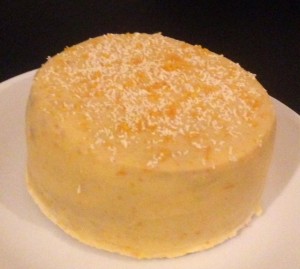 I had a rhubarb and apple crumble the other day and this got me thinking that I have never baked before with rhubarb which is such a shame as its such an amazing tasting and interesting little…vegetable? It doesn't have seeds or pips so I take it its one of the unique vegetables disguised as a fruit with its sweet and soft flavour…
After a bit of taste testing I ended up deciding that orange and ginger was the best combo to complement the robust rhubarb taste, while still ensuring the focus was on rhubarb.
The outcome = my Rhubarb Orange and Ginger cake.
This cake definitely stars the Rhubarb where the orange and the ginger provide a refreshing and gentle delectable taste.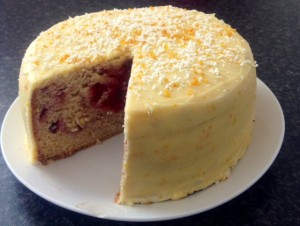 Ingredients:
Batter:
300g rhubarb
1 cup sugar
3 tsn vanilla essence
125g butter
2 eggs
1 + ½ cup self raising flour
¼ cup buttermilk
1 tsn baking powder
1 + 1/2 tsn ground ginger
2 tsn orange zest
Icing:
90g butter
1 tsn vanilla
1 cup icing sugar
1 tsn ground ginger
2 tsn orange zest
2 tsn milk
Method:
Preheat the oven to 160c and line a 23cm-baking tray with baking paper.
Cut the rhubarb into 2cm pieces and place in a saucepan with ¼ of the sugar and 2 tsn's of the vanilla essence. On a medium heat stir for 10 minutes or until the rhubarb is soft and smooth.
With electric mixer beat the butter, zest, and ground ginger, remaining vanilla essence and remaining sugar for 7 minutes until the mix is light and fluffy.
Add eggs, beating in between each addition.
Add the milk and flour and fold gently.
Using a spatula carefully fold in the rhubarb mix until only just combined where ripples of rhubarb have occurred.
Carefully spoon mix into the baking tin and bake for 55 minutes of until a skew inserted in the center comes out clean.
Place on a cooling rack to cool.
To make the icing combine all ingredients together and beat with electric beaters for 10 minutes until light and fluffy.
On a cooled cake spread the icing all over, serve.
Notes:
You can always use milk instead of buttermilk but the cake wont be as dense.
I have decorated with some grated white chocolate and left over orange zest.
You will need 1 large orange for the zest required for this cake.
Ingredients
Step 2
Step 7
Like this recipe? Subscribe via RSS or email to get my new entries and more scrumptious recipes with reviews.