Lemon Meringue Cheesecake
So Lemon Meringue Pie is a classic ultimate favorite of mine. Cheesecake can also be unbelievable if the right recipe and ingredient combination is used. Both these 2 sweet indulgent treats are very popular to both the sweet and more savory taste buds.
As I am always asked to bake cheesecake and lemon pie I decided the only way I would make these is to incorporate them together. This way if the outcome is incredible I can post the recipe on this blog and share the awesomeness for others to bake and experience.
So introducing the Lemon Meringue Cheesecake.  Now let me pre-warn you,  once I put this cake out it was gone in 10 minutes, the quickest of my cakes to disappear. Many people missed out and I am told this is my best cake yet…
Ingredients:
Base:
375g butternut snap biscuits
100g butter
Filling:
¼ cup water
4 tsn powered gelatin
280g jar lemon butter
500g cream cheese
¾ cup thickened cream
110g white sugar
½ lemon zest
Meringue:
Extra 80g water
Extra ¾ cup white sugar
3 egg whites
Method:
Line a 20cm cake tin with baking paper.
Add the biscuits and butter into a food processor and process until well combined.
Spoon mix into the cake tin and line the walls and base with the biscuit mix. Refrigerate for 30 minutes to set.
Put the water and gelatin into a bowl and whish with a fork until well combined.
Microwave for 30 seconds or until dissolved, cool.
Whisk lemon butter until smooth. Add 4 tsn of the gelatin mix to the lemon butter and whisk.
Beat together the cream, cheese, sugar and zest into a bowl with an electric whisk for 5 minutes until smooth.
Pour cheese mix over the base.
Spoon the lemon mix over the cheese layer.
Place cake in the fridge for 3 hours minimum.
Put extra water and sugar into a saucepan on medium heat cook stirring until the sugar has dissolved.
Increase to high and place a candy thermometer in the sugar mix. Cook until the temperate hits 120 degrees then remove off the heat.
With electric beaters whisk the egg whites on medium until soft peaks form.
Increase speed to high, while beating in the sugar syrup in a steady stream. Beat for 10 minutes or until thick and glossy.
Remove the cake from the tin and place onto a plate.
Spoon the meringue onto the cake and blow torch the meringue until golden brown on top, serve.
Notes:
If in a hurry place the cake in the freezer for 45 minutes instead of 3+ hours in the fridge to set quickly.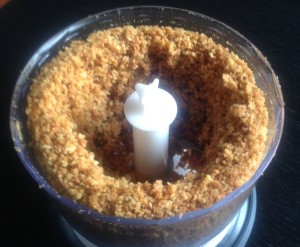 Step 2
Step 3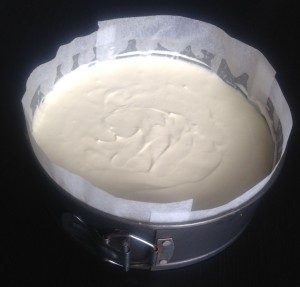 Step 8
Step 9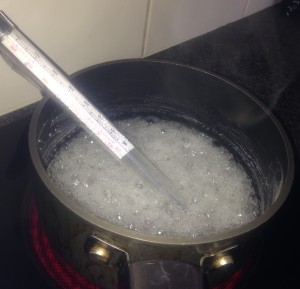 Step 12