Unusual sweets and global treats
Date Strawberry and Chocolate Avocado Cake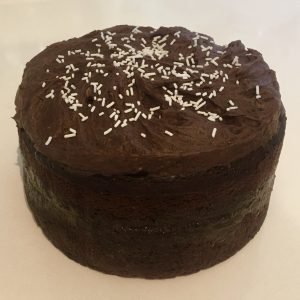 Many many times I have used avocado as the base to a healthier alternative frosting for cakes. Additionally, I have made mousse, tarts and pies with avocado as the core filling ingredient. But, what I haven't really experimented with is using avocado as a key ingredient within the cake itself.
Sour cream, mayonnaise, yoghurt, varieties of cheeses, even cordial have featured as a wet ingredient in my past baking experiments but avocado surprisingly was a new one for me.
To come up with an avo based recipe I played around with a ridiculous number of cake flavor combos. And by a number I mean 14 different variations from sourcream & onion chips with chocolate to rosemary chocolate & orange blossom, even vegemite & chocolate.
The outcome of chocolate was def a winner. The experiment of flavor profiles of strawberry and dates resulted in the standout cake, delivering a rich chocolate strawberry treat.
As avocado is full of good fats, omitting the amount of bad fat I thought it would be an interesting direction for the recipe to completely replace sugar via dates and jam (yes I know jam has sugar but majority of the sweetness is through the strawberries) and chocolate replaced by means of raw Dutch cocoa powder.
The end result is a satisfying and suprisingly addictive sweet treat.
Cake:
150g pitted dates
1 tsn bi-carb of soda
45g butter
100g avocado flesh (2/3 of 1 avocado)
2 eggs
1 tsn vanilla essence
¼ tsn salt
65ml milk
180g strawberry jam
225g self-raising flour
60g cocoa powder
Frosting:
130g avocado flesh (1 avocado)
20g cocoa powder
Pinch salt
1/2 tsn vanilla essence
70g strawberry jam
100g butter, softened
Extra:
Method:
Pre-heat the oven to 180c degrees and line a 25cm cake tin with baking paper.
Place the dates and 190ml water into a saucepan on a medium/high heat.
Once mix boils stir through the bi-carb of soda, set aside to cool completely.
Place the dates, butter, avocado, eggs, vanilla, salt, milk and strawberry jam into a food processor and blitz until well combine and smooth.
Transfer avocado mix into a bowl, sieve the flour and cocoa into the mix.
Fold all ingredients together until just combine.
Spoon the mix into the cake tin and place in the oven for 40 minutes or until a skewer inserted into the center comes out clean.
Place the cake on a cooling rack until cool.
Meanwhile make the frosting by placing all of the frosting ingredients into a food processor and blitzing until combine and fluffy.
Once the cake is cooled cut in half horizontally, place a cake layer on a plate cut side up, and spread with half the extra jam. Use the back of a spoon to push the jam into the cake. Repeat for the 2nd cake layer, leaving the layer on the bench, jam/sut side up.
 Top the jam on layer 1 with 1/3rd of the frosting and repeat with the second layer. Sandwich the 1st cake layer with the 2nd cake layer, jam side down to have an unfrosted cake top with all frosting and jam in the center of the cake.
Top with the remaining 1/3rd frosting and enjoy!
Like this recipe? Subscribe via RSS or email to get my new entries and more scrumptious recipes with reviews.
Passionfruit Orange Blossom and Pineapple Custard Pots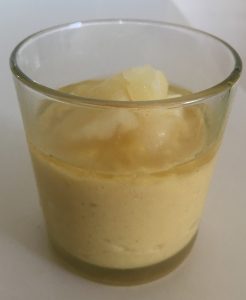 Sometimes it is quite difficult for me to write up what inspired a recipe you see on this blog, this recipe being no exception.
Ultimately, I had a ton of passionfruits and wanted to make something that centered on this fruit as (a) I rarely experiment with passionfruit and (b) I cannot let food go to waste.
I have attempted passionfruit and chocolate cake in the past in which the end learning was that passionfruit is much better paired with a similar acidic toned profile. Orange and Pineapple both work together well, additionally they are complementary to passionfruit, not surprising that the 3 work perfectly together.
As I eluded to I have experimented with different passionfruit pairings which resulted in cakes that were not to my expectations so this time around I opted against a cake and looked at a pudding, custard and flan alternatives. The winner, that would be the custard pots.
A delicious, quick and easy, low fat, lowish sugar treat.
Ingredients:
Milk:
¼ tsn salt

500ml milk

1 piece of orange peel

6 passionfruits

1 tsn orange blossom water

30ml pineapple juice
Custard:
3 eggs

45ml sugar

45g corn flour

45ml butter
Syrup:
60ml pineapple juice

30ml sugar

Pineapple pieces
Method:
Place all milk ingredients into a saucepan on medium heat until the milk mix is boiling (the milk will curdle due to the acid in the passionfruit, this is fine). Once boiling, remove off heat and leave aside for 15 minutes to infuse and cool.
Once cooled remove the orange peel and blitz the milk mix in a food processor until smooth and creamy in consistency.
Place the milk mix through a sieve to capture any remaining passionfruit seeds and leave the milk mix aside for later use.
Meanwhile, beat the egg yolks, sugar and flour with electric beaters for 10 minutes or until light and fluffy.
Slowly pour the milk mix into the egg mix while stirring with a spatula until completely combine.
Pour the mix back into the saucepan on a medium heat and whisk with a hand whisk for 10 minutes or the custard is thickened to a curd/aioli consistency.
Take off the heat and whisk in the butter until well combined.
Pour the custard into 4 glasses and cover with plastic wrap.
Once the custard is at room temperature place the glasses in the fridge to set for at least an hour.
Meanwhile, make the syrup by placing the sugar and juice into a saucepan on medium heat, stirring until sugar has dissolved.
Leave the syrup to boil until it thickens to syrup consistency, remove off heat. Allow the syrup to cool before placing it into a container, them into the fridge.
When you are ready to serve pour the syrup over the top of the pots evenly and top with pineapple pieces.
Like this recipe? Subscribe via RSS or email to get my new entries and more scrumptious recipes with reviews.
Aniseed and Chocolate Biscuit Cake
This recipe is an interesting one, while being so super easy and oh so delicious. The inspiration came from none other than chocolate bullets (chocolate covered licorice).

I was looking for new flavours to pair with chocolate that were a bit unusual but complemented each other and though I could steal the flavour profile of chocolate bullets.

For the cake style and format I took influence from my Ginger and Date Biscuit Cake.

Outcome, a really delightful cake that took a whole of 15 minutes to make and contained only a few ingredients that are supermarket stables.

Cakes don't get much easier than this!
Ingredients
300ml thickened cream
2 + ½ tbsn icing sugar
1 tsn vanilla essence
10g cocoa powder
1 + 1/3 tbsn white Sambuca
125g chocolate ripple biscuits
Method:
Beat the cream with electric beaters until soft peaks form.
Add the icing sugar, vanilla, cocoa and Sambuca to the cream until combine and firm peaks form.
Spoon a line of the cream mix onto a plate in a line.
Spoon ½ tbsn of cream mix onto a biscuit and sandwich together with another.
Place the biscuits long side up onto the cream.
Continue to spread ½ tbsn cream onto a biscuit and push into the biscuit on the plate, cream side first.
Continue until all the biscuits are used up.
Spread the remaining cream over the outside of the cream biscuit log.
Place cake in the fridge for 6 hours to set.
Dust with cocoa powder and serve.
NOTE: If you dont have Sambuba you can replace with Ouzo instead or any aniseed flavoured liquor.
Step 4
Step 7
Step 8
Step 10
Like this recipe? Subscribe via RSS or email to get my new entries and more scrumptious recipes with reviews.
Apple Lemon and Aniseed Doughnuts
There are so many doughnut recipes in the world that vary in base ingredients as well as methods, shapes, sizes, flavours and filling types (if any). On top of this many counties have their own traditional doughnuts; the Dutch with (oliebollen), Mexico (churros), Middle East (awwami), France (beignet) and the list could go on and on.
Then there is the use of different core ingredients such as flour, potato, semolina, apple, ricotta, rice, cream cheese, milk powder just to name a few.
Then there is yeast or no yeast, dry or soaked, iced or filled, round or ring shaped….there must be thousands of varies all special to someone in the world.
As this is such an interesting sweet treat I decided to have a day of experimenting with traditional and new age (injection filled doughnuts), different key ingredients for ultimate fluffiness and interesting flavour combos to stay true to my passion of unusual but amazing tasting flavour pairings.
It will take me a long long long time to list all the experiments, suffice to say this recipe I'm posting is fluffier than a pancake and delicious in taste – you won't stop at one! Though you do need to be an aniseed/star anise/fennel/licorice fan as I heavily feature aniseed for something delicious and different.
Ingredients:
Batter:
250ml milk
100g sugar
2 tsn yeast
1 apple (130g)
250g plain flour
250g self raising flour
1 tbsn ground aniseed
½ tsn aniseed essence
¼ tsn salt
80g butter, at room temperature
3 eggs
1 lemon
Extra:
Oil for frying
100ml ouzo liquor
100g sugar
Method:
Warm the milk to a luke warm temperature.
Add 15g sugar and the yeast to the milk and stir. Set mix aside in a warm place for 10 minutes to bubble and activate.
Meanwhile, peel the apple and grate it (a 130g apple will produce 110g grated apple), place into a bowl.
Add the flours in a bowl along with the ground aniseed, aniseed essence, salt, butter, eggs and 1 small lemons zest.
Place the flour mix bowl into an electric mixer with a paddle attachment and beat on medium until well combined.
Next pour the milk into the flour mix slowly in a stream, beating for 5 minutes.
Cover the bowl with plastic wrap and set aside somewhere warm for 90 minutes to rise.
Place paper towel sheets onto a large plate for later use.
Place the 100g extra sugar into a shallow bowl.
Pour the oil into a saucepan and heat on medium on a stove top until 175c degrees is hit.
Oil 2 tbsn's (to stop the batter sticking to the spoon) and spoon a large tbsn of batter into the frying oil, using the other spoon to scoop the mix into the saucepan.
Cook the doughnuts for 3-4 minutes until golden brown and crispy on the outside.
Using tongs remove the doughnuts from the oil and place on the paper towel to absorb excess oil.
Following, using a pastry brush add the ouzo to a doughnuts on both sides.
Place the doughnuts into the sugar, ensuring even coating.
Repeat ouzo and sugar steps until all doughnuts are done.
Place doughnuts on a plate and enjoy!
PN: If you don't have aniseed essence you can replace with an extra tbsn of ground aniseed. Ouzo can be replaced with Black Sambuca or any other aniseed/licorice flavoured liquor.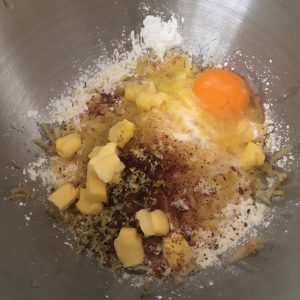 Step 4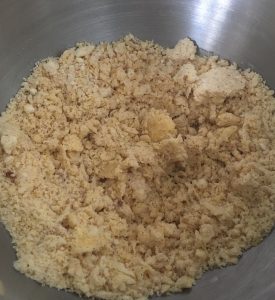 Step 5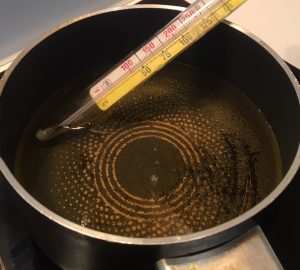 Step 10
Step 12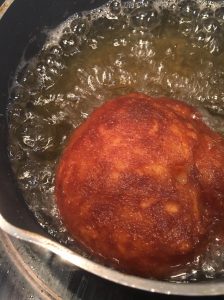 Step 12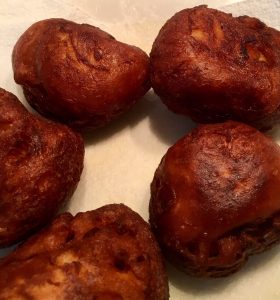 Step 13
Step 17
Like this recipe? Subscribe via RSS or email to get my new entries and more scrumptious recipes with reviews.
Lemon and Lavender Apple Balls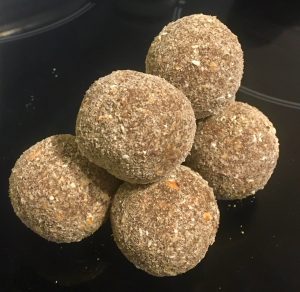 This bake session was originally planned to experiment with salt and pepper apple crumble spiced oat balls that went through quite a number of iterations before I landed on the flavour combo of lavender, lemon and apple. This flavour mix was so tasty with the lemon and lavender flavours balanced to perfection. The texture though was not ideal and the flavour could have been stronger.
I had grated apples into the mix which took a lot of oats to absorb and dulled the flavours down a little too much.
So I attempted this same recipe again, this time squeezing the apple juice from the apple flesh and 'bingo' a significant reduction in the oats and biscuits allowed the flavour strength I was looking for.
These balls are delicious, super easy and take minutes to make with no oven required!
Ingredients:
400g malt biscuits
10g icing sugar
1 tsn ground lavender
1 tsn lemon zest
40g toasted oats
1 tsn psyllium husk powder
4 apples (130g each)
Coating:
10g brown sugar
20g toasted oats
10g walnuts
1/8th tsn ground lavender
Method:
Peel the 4 apples with a vegetable peeler.
Grate the apples into a bowl.
Squeeze out the apple juice with both hands into a glass to drink later (yum)!
You should have 140g of squeezed apple flesh in total, place into a food processor.
Add the biscuits broken into pieces, the sugar, lavender, lemon zest, oats and psyllium husk into the food processor.
Pulse the mix until the large lumps have subsided, give it a little stir, then blitz again until well combine and smooth.
Knead the mix ( on a lightly floured surface if the mix is too sticky) on a bench to ensure no lumps then set mix aside in the fridge for 15 mins.
Meanwhile, make the coating by placing the sugar, oats, walnuts and lavender into the food processor until the mix resembles salt grains in size.
Place the mix into a shallow dish.
Roll the apple mix into balls of 25g each then roll each ball into the coating mix until well covered.
Place coated balls onto a plate and continue the process until all apple ball mix is used.
Place the plate in the fridge for 30 minutes minimum to fully set.
Enjoy!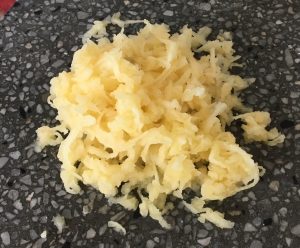 Step 2
Step 8
Step 10
Like this recipe? Subscribe via RSS or email to get my new entries and more scrumptious recipes with reviews.
Cream Cheese Chocolate Ravioli
Out of all the sweet treats I have created over the years my favorite experimentation sessions are turning savory dishes into sweet. However, these type of baking ideas don't come as frequently as thinking up unusual flavour combinations to experiment with.
I did the other day have ravioli filled with sweet pumpkin and maple syrup which got me thinking of sweet ravioli…chocolate pasta…chocolate ravioli…white chocolate cream cheese filled chocolate pasta ravioli…why not?
Not since my Green Tea and Pistachio Eclairs have I created a savory to sweet dish that is website worthy. Therefore, introducing my Cream Cheese Chocolate ravioli.
Ingredients:
165g plain flour
30g cocoa powder
Pinch salt
40g icing sugar
2 eggs, beaten
15ml olive oil
Filling:
110g white chocolate
170g cream cheese
15g icing sugar
1 egg
Extra:
1 tsn milk
1 tsn oil
30ml cream
40g white chocolate, melted
30g chocolate biscuit crumbs
Method:
Place the flour, cocoa, salt and sugar in a bowl, stir. Make a well in the centre then add the beaten eggs and oil.
Mix with your fingers and knead the dough until smooth, following place the dough in the fridge for 30mins.
Next make filling by whisking the cheese in with electric beaters in a bowl until smooth.
Place the white chocolate in a bowl under a bowl of water on the stove until the chocolate has melted.
Allow the chocolate to slight cool then add to the cheese with the icing sugar and egg and whisk until smooth and creamy.
Place the filling into a piping bag fitted with a circle nozzle.
Cut the pasta into 2 even pieces.
Roll out both pieces on a lightly floured surface until the dough is 3mm thick (or ideally use a pastry machine).
Brush a pasta sheet with the milk.
Pipe small 1 tsn dots of the cheese filling on to the pasta 4cm apart.
Place the second pasta sheet on top of the first and using a ravioli cutter or cookie cutter cut out the ravioli making sure the filling bump is in the middle of the cutter.
Place ravioli pieces on a floured surface and let them dry out for 30mins.
Bring a pot of water with 1 tsn of oil on the stove and bring to the boil.
Once boiling turn the temperature to a simmer and place the ravioli in the water, simmering gently for 5 mins (or until pasta is cooked).
Remove the ravioli with a slotted spatula/spoon and place pieces in serving bowls/plates.
Add the white chocolate to the cream and heat in the microwave on medium in 30 second busts, stirring in between each interval until smooth.
Serve by drizzling the chocolate cream over the ravioli pieces.
Scatter with the chocolate biscuit crumbs and enjoy.
Notes:
It is recommended to use a 5cm cookie cutter as making the ravioli to small will be difficult to seal the pasta.
Step 2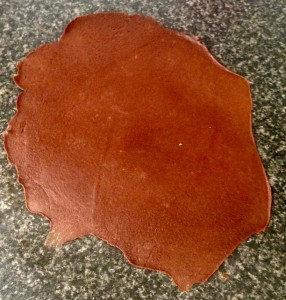 Step 8
Step 10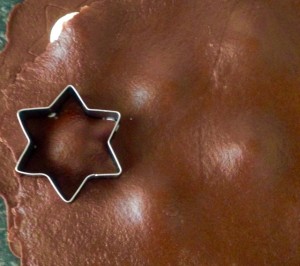 Step 11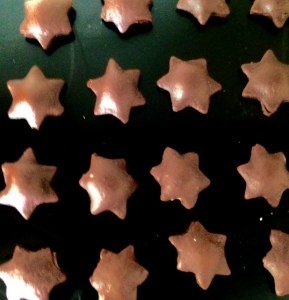 Step 12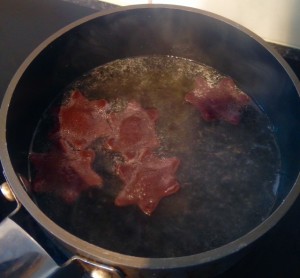 Step 14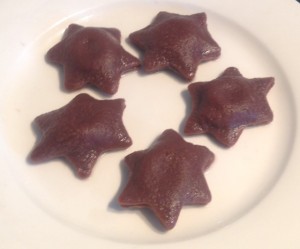 Step 15
Like this recipe? Subscribe via RSS or email to get my new entries and more scrumptious recipes with reviews.
Pretzel-base Caramel Apple Walnut and Pork Crackle Tart
The idea for this recipe was all around combining the sweet, the salty, the sour and savoury.
As I had a bunch of apple left from a previous baking session I decided to use them up and have apples as a core sweet component of a dessert. I thought that if I made a salted caramel, in which would go brilliantly with the apple I could get some saltiness as well as the sweet. I'm also mindful that these 2 ingredients  would make for a prefect tart filling.
So, if I was to make a tart then I needed a base. I figured since pretzels are basically flour and salt I could use these savory snacks as a base to my recipe, ticking the savory and salty box.
To not only ramp up the savory but also ensure some crunchy texture I opted for a few extra ingredients that also complement the apple flavour. After playing around with a few ingredients I decided that walnuts and pork crackle, when combine with the apple were too good of a combo to ignore.
Lastly, as I did want to have sour in the recipe in some way the only way this would work and add an extra depth to the flavour was through some lemon zest.
A lot of trial and error was had for this recipe, but in the end I'm impressed with the result. I successfully ticked the sweet, sour, salty and savory boxes as well as the tarts achieving deliciousness with a diverse range of textures, from crunchy, smooth and soft.
Ingredients:
Base:
140g pretzels
110g butter
40ml honey
Caramel:
180ml cream
Pinch salt
50g butter
220g sugar
Apples:
5 apples (130g per apple will amount to 90g apple slices)
Pinch salt
40g brown sugar
1 tsn lemon zest
20g flour
50g walnuts, finely chopped
40g pork crackle, finely chopped
Method:
Pre-heat the oven to 175c degrees and grease 6 small tart pans with oil spray.
Process the pretzels, butter and honey in a food processor until the mix resembles breadcrumb texture.
Spoon 50g of filling into each tart case and pat the bottom and sides of the tart case with oiled fingertips until the whole tart case is covered with the mix.
Place the tart cases on a tray, poke with a fork in the centre lightly and bake in the oven for 8 minutes or until golden, set aside to cool.
Make the caramel by placing the sugar into a pan on high heat until the mix turns amber and bubbles.
Remove off the heat, pour in the cream, add the salt and the butter. Stir until well combine and silky smooth in texture.
Allow the caramel to sit for 10 minutes to cool then place half the caramel into a bowl and for the remaining pour into the bottom of the cooked tart cases.
Peel the apples and core them.
Cut the apples into quarters, then each quarter into 3 pieces lengthways.
Put the apple pieces in a bowl with a pitch of salt, the brown sugar, the lemon zest and flour. Stir until the apple is well coated and the mix is evenly distributed.
Place the bowl in the microwave on a medium heat, stopping and mixing in 60 second bursts until the apple is soft and the flour mix coats the apple well.
Add the remaining caramel to the apples and stir until well combine.
Place 40g walnuts and 30g of the pork crackle into the apple mix and stir until well combined.
Spoon the apple pieces over the caramel in a fan design, topping with the remaining caramel mix over the apples.
Place tarts on a tray and bake in the oven on 175c degrees, for 20 minutes.
Remove from the oven and top with remaining 10g walnuts and 10g pork crackle, leave aside until they have cooled to just warmer than room temperature.
Remove the tarts out of the tart casings and enjoy as is or with a scoop of vanilla ice-cream on the top.
Note: You are best using actual pork crackle, not using the pork belly crackling with the fat. We just want to the crunchiness of the crackling!
Step 3
Step 5
Step 6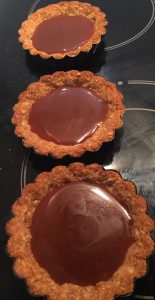 Step 7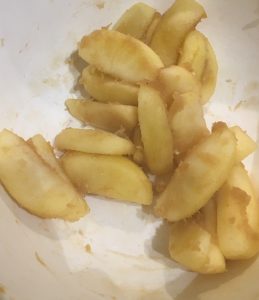 Step 12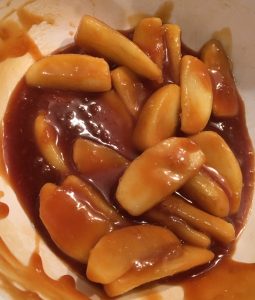 Step 12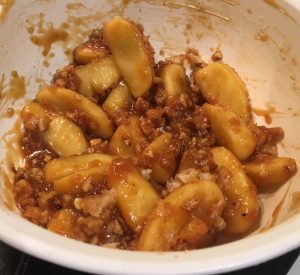 Step 13
Step 15
Step 17
Step 17
Like this recipe? Subscribe via RSS or email to get my new entries and more scrumptious recipes with reviews.
Marsala and Coffee Ice-Cream Ricotta Cheese Cake
Inspired by the outer layer of trifle varieties and flavour combo of delicious Tiramisu, this experiment is one that resulted in a cake that I could just not stop eating.
My all-time favorite sweet treat (as I have mentioned multiple times) is Tiramisu. I wanted to make a version of this dessert that would keep over a generous period of time so I could enjoy the treat multiple times, oppose to the traditional dessert that really does need to be eaten within a few days of creation.
Thus, making an ice-cream cake made sense. It would keep for weeks (in the freezer), not days. Lastly, as the traditional Tiramisu is not exactly light on the hips I did opt for low fat ricotta and down-weighted the cream volume.
This cake is easy, tasty, quick, with no baking required, and as I mentioned above addictive!

Ingredients:
400g chocolate swizz roll
100ml Marsala
300g ricotta cheese
200ml sweetened condensed milk
300ml thickened cream
2 tsn vanilla extract
2 tbsn coffee granules
2 tsn cocoa powder
35g chocolate covered coffee beans
Method:
Spray a 1.5-liter pudding tin or bowl with oil spray, following line the sprayed tin with 2 layers of overlapping plastic wrap.
Cut the swizz roll into 1cm thick slices and place on the bottom and slides of the tin, squashing slightly with fingertips to ensure no gaps.
Using a spoon drizzle 40ml of the Marsala over the swizz roll on the bottom and the sides, evenly covering each piece.
In a food processor blitz the cheese and condensed milk until smooth.
Whisk the cheese mix and 300ml cream with electric beaters in a bowl until peaks start to form (do not over beat or the cream will split).
Spoon half the mix into another bowl and leave aside for later use to make the coffee chocolate layer.
With your original bowl of mix add the vanilla, and remaining 60ml of Marsala, fold until well combined.
Spoon the vanilla & Marsala mix into the bowl on top of the swizz roll and level with the back of a spoon.
Place the tin in the freezer for 30 minutes to firm.
Meanwhile make the coffee mix by placing 15ml of boiling water into a small bowl with the coffee granules, stir until combined, set aside to cool completely before pouring into the remaining bowl of mix.
Add the cocoa powder to the coffee mix and beat on low with electric beaters until just combined.
Chop up the coffee beans until finely diced and fold into the mix until combined.
Spoon the coffee mix over the top of the vanilla and Marsala mix and level with the back of a spoon.
Using the remaining swizz roll slices place on the top of the mix to completely cover the top with no gaps.
Pull the plastic wrap tightly and fold to cover the top of the cake completely, then push down the top of the cake with the bottom of a plate.
Freeze for 4 hours until firm (with the plate as a height on top).
When ready to serve the cake you will need to take the cake out of the freezer 30 mins before. Uncover the plastic wrap on the top and invert (flip) the cake onto a plate.
Remove the plastic wrap completely and top with a drizzle of chocolate ganache (if you desire).
Cut into slices and enjoy!
Step 1
Step 2
Step 7
Step 8
Step 11
Step 14
Step 18
Like this recipe? Subscribe via RSS or email to get my new entries and more scrumptious recipes with reviews
Carrot Pineapple and Coconut Cakes

I have made quite a few variations of carrot and pineapple desserts, however I'm never quite satisfied with the final outcomes. Yes they were nice, but have never been blog worthy, they always lacked a little something extra to give them that wow factor.
Finally I have got there, funnily it was as simple as using my carrot cake recipe as a base and altering accordingly. I can't believe I had the perfect base recipe all along and have attempted 5 different versions over the span of the last 2 years!
So we know coconut and pineapple are complementary tropical flavour parings. While, the carrot and the pineapple have very similar textures as well as being well balanced when combined (the pineapple sweetness works perfectly with the savory flavour of the carrot).
This recipe is an easy and luscious-tasting spin on a tropical cake combined with a spiced carrot cake.
Ingredients:
Cake:
150g butter
180g brown sugar
1 egg
180g self raising flour
1 tsn baking powder
½ tsn bi carbonate of soda
1 tsn ground ginger
1 tsn mixed spice
90g desiccated coconut
2 tsn lemon zest
210g pineapple, diced
180g carrot
90ml coconut milk
Frosting:
20ml coconut milk
70g icing sugar
40g butter
Method:
Pre-heat the oven to 200c degrees and line a 16 capacity cupcake tin with cupcake patties. Spray the inside of the patty cases with a little oil spray.
Using electric beaters beat the butter and sugar until light and creamy.
Add the egg and beat until well combined.
Add the flour, powder, soda, spices, coconut and zest in another bowl and stir until combine.
Grate the carrot and add into the flour mix along with the diced pineapple, stir to combine.
Add the butter mix to the flour and stir.
Add the coconut milk and stir until the mix is well combine.
Spoon the mix evenly into each patty case.
Bake in the oven for 15 minutes.
Meanwhile make the icing by placing all the ingredients into a bowl and using electric beats whisk until light and fluffy.
Once the cakes are cooked place on a cooling tray until cold. Remove from the patty cases.
Spoon the frosting into a piping bag fitted with a star nozzle and pipe little circles of frosting on each cake.
Top with a pineapple piece or extra coconut if desired.
Step 5
Step 7
Step 8
Step 11
Like this recipe? Subscribe via RSS or email to get my new entries and more scrumptious recipes with reviews.
Rosemary Lemon and Carrot Loaf
This recipe derived from wanting to make something sweet (but not too sweet), to deliver on the healthy side of baking, while being gluten free & process ingredient free, though still featuring an interesting mix of flavours for a dessert.
Lemon is very common in my baking and I have used Rosemary in a few of my recipes in the past (see my Mandarin and Rosemary Cake – one of my favs), and carrot cake is quite a common favourite for many. So how is this recipe unique and different? These 3 flavours combine, though are super delicious and complementary of each other, are not typical at all.
Add in nuts, seeds and natural sugar (well honey) and you end up with a tasty dessert that will keep you satisfied while being friendly to your hips (well more so than standard baking treats that's for sure)!
For a bit more deliciousness I whipped up an easy and quick cream cheese based icing.
This recipe hits the dessert craving spot without the 'naughty' feeling.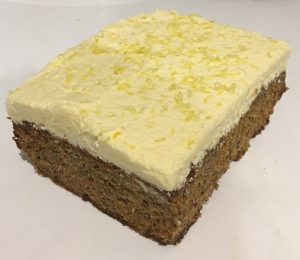 Loaf:
80g walnuts
80g almond meal
40g LSA
2 tbsn phylum husk powder
1 tsn baking powder
½ tsn salt
22g dried rosemary
60g chia seeds
2 carrots (a 130g carrot will produce 120g grated carrot)
2 eggs
4 tsn lemon infused olive oil (or normal EVOO)
2 tbsn almond milk
60g honey
2 tsn lemon zest
Frosting:
60g butter
60g cream cheese
1 + ½ tsn lemon zest
30ml honey
150ml cream
Method:
Pre-heat the oven to 180c degrees and line a loaf tin with baking paper.
Place the walnuts into a food processor and blitz until fine breadcrumb consistency.
Add the almond meal, LSA, psylium, powder, salt and rosemary to the food processor and pulse until well combine.
Pour the mix into a bowl and stir in the chia seeds.
In a separate bowl place the grated carrot, eggs, olive oil, honey and lemon zest, beat with a hand whisk until combine.
Pour the carrot mix into the rosemary mix and stir until well combine.
Spoon the loaf batter mix into the tin, flattening the mix with the back of a spoon to even the top.
Bake for 50 minutes or until a skewer inserted in the center comes out clean.
Allow the loaf to cool in the tin.
Meanwhile, make the frosting by whisking the butter, cheese, lemon zest and honey with electric beaters in a bowl until smooth and creamy.
In a separate bowl whisk the cream with electric beaters until soft peaks form.
Add the butter mix to the cream mix and beat until combine.
Remove the now cold loaf from the tin and top with the frosting, enjoy.
Step 3
Step 4
Step 6
Step 7
Step 9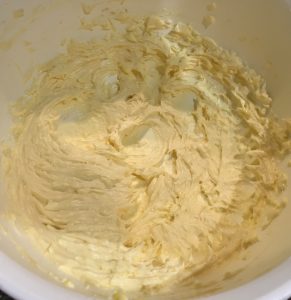 Step 12
Step 13
Like this recipe? Subscribe via RSS or email to get my new entries and more scrumptious recipes with reviews.