Vanilla Slice
Yummm, Vanilla Slice…my fathers all time favorite dessert and I must say my recipe is a winner. I have made this sooo many times and it is always a hit.
Ingredients:
1 + ¼ cups of milk
300ml thickened cream
4 egg yolks
½ cup caster sugar
1 tsn vanilla essence
1/3 cup corn flour
1/3 cup custard flour
60g chopped butter
2 sheets of frozen puff pastry.
Method:
Pre-heat the oven to 200c and line 2 baking trays with baking paper.
Also line a 23cm square cake tin with baking paper.
Place the milk and cream in a saucepan over medium heat and cook stiring for 10 minutes or until it is almost simmering. Don't boil as the mix will curtel.
Using the electric beaters beat the egg yolks, sugar and vanilla until thick and creamy.
Add the corn flour and custard powder to the sugar mix, beating until smooth.
Slowly beat in the milk mix. Once all added return the whole mix to the saucepan.
Cook stirring over a low heat for 8 minutes or until the mix is thick enough to coat the back of a wooden spoon. Remove from the heat.
Stir in the butter until smooth and set aside from 1 hour to cool with plastic wrap on the top to stop a custard seal from forming.
Place 1 pastry sheet of each baking tray and bake for 20 minutes or until puffed and golden.
Once cooled lightly press the pastry to flatten.
Place 1 pastry sheet in the cake tin, pour in the custard and top with the 2nd pastry sheet.
Place in the fridge for at least 3 hours or until set.
Dust with icing sugar.
Notes:
If you would like to add icing to this slice you can use glace icing (see my recipe in icings) where you can replace the hot water in the icing with passion fruit pulp. However, I do feel this slice is better with just icing sugar.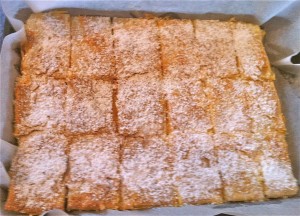 Step 13. The finished result.
Like this recipe? Subscribe via RSS or email to get my new entries and more scrumptious recipes with reviews.