Beetroot and Chocolate Brownies
Beetroot…this vegetable is one of the sweetest veggies around, making it perfect to incorporate into baking. I have tried many beetroot recipes from cakes to tarts and have never been happy with the end result.
I think this beetroot recipe is my 5th attempt at baking with the ingredient and finally I'm onto a winner!
Ingredients
500g beetroot (almost a whole 825g can that has been drained).
175g butter, chopped
255g brown sugar
200g dark chocolate
3 eggs
100g plain flour
35g cocoa powder
¼ tsn ground cinnamon
¼ tsn ground nutmeg
90g walnuts, coarsely chopped
Method:
Preheat the oven to 180c and place baking paper in a 25 cm square cake tin.
Process beetroot in a food processor until finely chopped, following do the same with the walnuts.
Place the beetroot, sugar, butter and chocolate in a saucepan over a low heat until all ingredients are melted and the mix is smooth.
Place mix in a bowl and whisk in the eggs with a hand held whisk.
Combine all the dry ingredients in a bowl and sift over the beetroot mix, whisk with a hand held whisk to combine.
Stir in the walnuts.
Pour into the cake tin and bake for 45 mins or until a skewer inserted in the middle comes out clean.
Let the brownie cool in the tin then place in the fridge for 30mins (this will ensure it is set), cut.
Notes:
Remember this is a dense brownie so it will look a little under cooked and not set. When you take it out of the fridge it will have the most amazing texture. It will melt in your mouth but will not be gooey.
I'm not really a fan of walnuts, however added some in for texture purposes. It makes no difference to the taste to go without them.
This brownie tastes like a rich chocolate brownie, however has a little zing from the beetroot as an after taste.
I had people who don't like beetroot telling me they loved this and someone who doesn't like chocolate cake telling me they enjoyed this.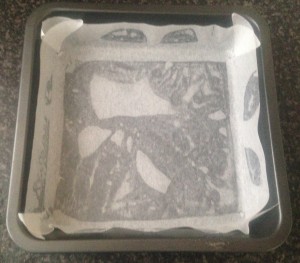 Step 1
Step 2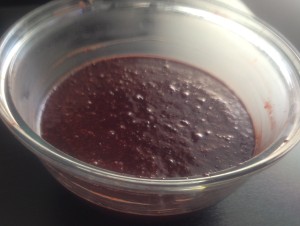 Step 6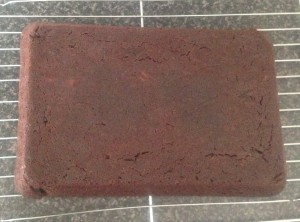 Step 8
Like this recipe? Subscribe via RSS or email to get my new entries and more scrumptious recipes with reviews.