Thiples

Thiples are a Greek traditional thin-sheet pastry (also known as Diples), usually made for special festive occasions. Similar to Cannoli's shell texture and crunch Thiples are fried pastry that is soaked in a honey lemon syrup and sprinkled with a sesame and nut cinnamon mix for the extra crunch and flavour.
Think Baklava syrup and Frappe (aka Cioffe…aka Italian deep fried bow-tie cookies).
This is not the easiest of desserts to make, the pastry needs to be super super thin, but the outcome is addictively moreish – I can see why these are a Greek dessert treasure!
Dough:
4 eggs
30g ouzo
1 tbsn sugar
20ml lemon juice
1 tsn vanilla essence
470g 'oo' flour
Syrup:
170g honey
110g sugar
30ml lemon juice
1 tsn ground cinnamon
Extra:
50g walnuts
35g sesame seeds
¼ tsn ground cinnamon
Oil to fry
Method:
Place the eggs, ouzo, sugar, vanilla and lemon juice into a bowl and stir until combine.
Add the flour ¼ cup at a time until the dough is stiff (disregard any unused flour).
Knead the dough for 5 minutes.
Place the dough in an oiled bowl with plastic wrap over the top and leave for 1 hour or until doubled in size.
For the syrup place all the syrup ingredients as well as 60ml of water into a saucepan on high heat and stir until well combine and sugar is melted.
Once the mix boils reduce heat to low and simmer for 5 minutes, take off heat.
Toast the sesame seeds until golden on a medium heat in a saucepan.
Finely chop up the walnuts and place them in a bowl with the cinnamon and seeds, stir until well combined.
Roll the dough through a pasta machine until you reach 2mm in thickness.
Cut the dough into 10cm x 10xm squares.
Roll the dough up into tube shapes.
Place the frying oil into a saucepan and add a little dough, place heat on high.
Once the dough starts to sizzle remove and turn the heat to medium/low.
Add in the tubes (triples) and fry until golden brown.
Remove the thiples and place onto paper towel.
Pour the syrup into a bowl and add in the thiples, turning them for a robust syrup coating.
Place the thiples onto a serving plate and top with any remaining syrup as well as the nut mix sprinkled on the top.
Enjoy!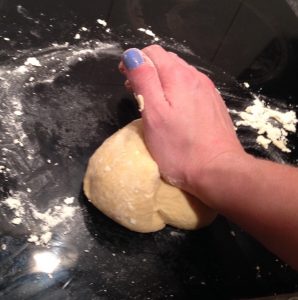 Step 5
Step 4
Step 7
Step 8
Step 9
Step 11
Step 14
Step 17

NOTE:
Rolling the pastry prior to adding to the oil is not the traditional method. Technically you are to add the pastry as a sheet and roll with tongs, this however clearly takes a lot of practice. As this recipe rolls prior to the oil make sure your oil is not too hot or the outside will brown before the pastry in the middle has had time to cook.
Like this recipe? Subscribe via RSS or email to get my new entries and more scrumptious recipes with reviews.