Aish El Saraya
My father is a big Bread and Butter Pudding fan. As his birthday was coming up I wanted to find some special and different pudding recipes to make for him.
After doing a bit of research and some baking of other countries versions of this dessert I came across Aish El Saraya.
"Aish el Saraya" is a famous Lebanese dessert that is traditionally cooked for Ramadan, holydays and fete days (etc 'Eid ul-Fitr). This puddings title means "the bread of royal palace" hence the baking taking place for special occassions.
The dessert is and light, eggless, bread & custard based rose pistachio treat.
Think bread and butter pudding texture with a Turkish delight flavour.
Ingredients:
Pudding:
6 slices bread
310ml milk
60g sugar
300ml thickened cream
50g corn flour
1 + ¼ tsn rosewater essence
1 + ¼ tsn lemon juice
50g shelled pistachios
¼ tsn lemon zest
Syrup:
85g sugar
70g water
2 + ½ tsn lemon juice
2 tsn rosewater essence
Method:
Toast the bread and cut off the crusts.
Line a 20cm x 25cm slice tin with baking paper.
Lay the bread into the base of the tray and cut to ensure a snug fit and no overlap.
To make the syrup place the sugar, water and lemon juice into a saucepan and stir on a high heat until boiling.
Turn the temperature to medium and stir for 5 minutes until the syrup has slightly thickened.
Take off the heat, stir in the rosewater essence and leave aside for 10 minutes.
Pour the syrup over the bread and evenly coat each slice.
To make the custard place the milk, sugar, cream, flour and lemon juice into a saucepan on a medium heat.
Whisk with a hand whisk for 5 minutes or until the custard thickens and is silky smooth.
Add the rosewater essence and whisk.
Pass the custard through a sieve and pour over the bread.
Tap the tin on the bench 5 times to remove any air bubbles and place in the fridge overnight.
Before serving finely dice the pistachios and scatter over the top on the pudding.
Scatter the lemon zest over the top.
Remove out of the tin and slice evenly, serve.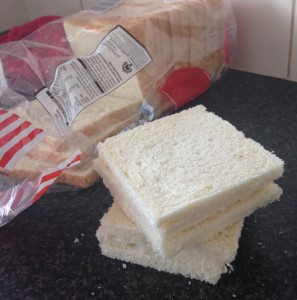 Step 1

Step 2

Step 3

Step 6

Step 9

Step 10

Step 11

Step 13

Step 14
Like this recipe? Subscribe via RSS or email to get my new entries and more scrumptious recipes with reviews.