Ovaltine Icing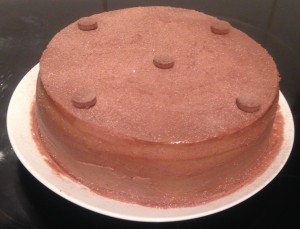 Quite a while ago I did some experimenting with Ovaltine where I ended up coming up with some amazing tasting biscuits. As it has been some time since I revisited this childhood flavour I decided to get back and do some some experimenting.
A slice, cake and an icing recipe later, the simple and delicious icing won out.
To me this icing holds such great unique properties that is also a little left of center (you expect chocolate flavor but are pleasantly surprised with a twist you just can't place your finger on…that being the malt).
So if you want to turn a plain cake into something with personality and character this icing will create something special.
Ingredients:
90g butter
1/2 tsn vanilla essence
1/2 cup Ovaltine
1 cup icing sugar
1 tbsn milk
Method:
Beat the butter and essence in a bowl with electric beaters for 5 minutes or until light and fluffy.
Beat in the Ovaltine, icing sugar and milk until well combine.
Like this recipe? Subscribe via RSS or email to get my new entries and more scrumptious recipes with reviews.