Fruit Tingle Frosting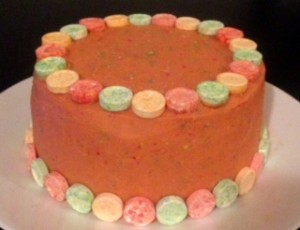 I was given the challenge from a work colleague to make something with whizz fizz. An interesting ingredient to integrate into a cake.
This got me thinking about using lollies that brought a smile to my face as a child.
From here I decided to make a plain vanilla battercake but place popping candy in the batter. This actually did nothing to the cake as the candy dissolved (as expected).
I used the whizz fizz ingredient by combining it with vanilla icing. The icing was spread in-between layers of cake and sprinkled on top. This seems to work but wasn't amazing.
So as a last resort I decided to incorporate fruit tingles into the buttercream icing on the outside of the cake. This worked! Therefore if you want to give a childhood twist to an otherwise boring cake this icing will definitely bring back memories and do the trick!
Ingredients:
180g fruit tingles (2 packets)
1 tbsn milk
260g icing sugar
250g butter
Few drops of orange food colouring
Method:
Place the fruit tingles in a food processor and process until almost in powder form.
Beat the butter and sugar in a bowl with electric beaters for 5 minutes until light and fluffy.
Beat in the fruit tingles, colouring and milk for a further 5 minutes.
Like this recipe? Subscribe via RSS or email to get my new entries and more scrumptious recipes with reviews.