Bulgur Lemon Almond and Green Tea Cake
If you follow my blog and the recipes I post ever week you will be well aware that a large amount of my recipes feature grains. Millet, quinoa, couscous, oates, wheat, corn, amaranth and rice too name a few! However I recently came across Bulgur, in which I have very limited knowledge and experience with. Not until I did some research did I realise this grain is most known for being the core ingredient in tabouli.
As soon as I experience a new grain that I'm not familiar with I cannot help myself but to start experimenting.
So unsurprisingly as soon as I brought a packet bulgur I got busy cooking the grain to understand its taste, texture and optimal cooking method. I additionally experimented with using cooked bulgur & uncooked in the batter as well as varying nuts, citric fruits, seeds, essence and powders (protein and teas).
From here I went full steam ahead coming up with recipe ideas, landing on 4 key variations.
My favourite recipe featured the flavour pairing of lemon, almond and weirdly green tea. Not only do these flavours work wonderfully together they compliment the nuttiness of the bulgur grain.
To add a variation to the cakes texture I added a smooth and creamy frosting, which very much enhances the cake, bringing it from nice and tasty to delicious and satisfying.
If your interested in making an usual cake with a range of textures that taste delicious then this cake cannot be bypassed.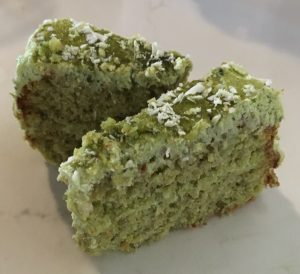 Ingredients:
Batter:
200g bulgur, cooked
50g butter, softened
80g sugar
1 egg
½ tsn almond essence
½ tsn vanilla essence
1 + ½ tsn lemon zest
¼ tsn salt
25g matcha powder
3 green teabags
50g almond meal
25ml milk
45 self-raising flour
2 tbsn lemon juice
Frosting:
130g icing sugar
10g matcha powder
200g cream cheese
90g butter, softened
¼ tsn lemon zest
Method:
Pre-heat the oven to 175c degrees and line a 20cm cake tin with baking paper.
Whisk butter and sugar together with electric beaters for 5 minutes or until creamy and pale.
Add the egg, essences, matcha powder, zest and salt to the butter mix, beat until well combine and silky.
Place 3 green tea bags into a bowl along with the milk, stir and heat in the microwave until boiling. Place aside until cooled.
Add the bulgur, almond meal, tea milk, flour and juice to the butter mix, whisk on low speed until combine.
Pour the mix into the cake tin and bake in the oven for 1 hour or until a skewer inserted in the center comes out clean.
Invert the cake onto a cooling rack until cooled.
Meanwhile make the frosting by placing all the frosting ingredients into a bowl and beat with electric beaters until fluffy and smooth.
Cut the cooled cake in half horizontally.
Place one cake layer on a plate, top with half the frosting.
Place the 2ndcake layer on the frosting and top with the remaining frosting.
Decorate with green tea leaves and diced almonds if you wish.
Cut into slices and enjoy.
Like this recipe? Subscribe via RSS or email to get my new entries and more scrumptious recipes with reviews.