Marshmallow Peanut Caramel and Chocolate Bread Pudding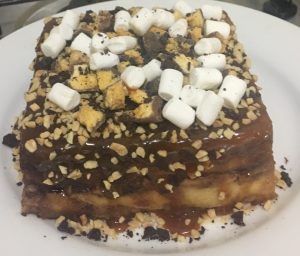 What do you do when you are tasked to make the most delectable bread and butter pudding?
I don't know about you but I took this as a challenge to do some experimenting with scrumptious, over-the-top but still delightfully tasty flavour pairings (any excuse to experiment and I'm there with bells on)!
After ideating on a few flavour ideas I landed on 3 varying flavour profiles all as rich as each other, being; a rocky-road influence combo, black forest inspired and a Jaffa guided taste.
I must say all combo's were tasty, I'd happily eat any of them for dessert, however, the rocky-road influenced combo (Marshmallow Peanut Caramel and Chocolate Bread Pudding) was the stand out winner….A far cry from the traditional cinnamon and sultana recipe!
Ingredients:
3 eggs
400ml milk
140ml cream
20g sugar
1 tsn vanilla essence
9 slices stale white bread (I used sourdough)
45g butter
30g dark (70%) chocolate chips
230g caramel top n' fill
80g peanuts, finely chopped
40g mini marshmallows
Extra:
Vanilla ice-cream to serve
Method:
Pre-heat the oven to 180c degrees and spray a 20cm x 20cm square cake tin with oil spray.
Place 3 pieces of plastic wrap into the tin allowing for overlap, with pieces crossed each over to ensure full tin coverage.
Whisk eggs, milk, sugar and essence in a bowl until combine.
Spread the butter on both sides of all 9 bread slices.
Decrust (if you wish I did but this is optional) the bread and trim 3 pieces to fit a layer snug in the base of the tin.
Top with 10g of chocolate chips, 30g peanuts and 150g caramel.
Use the back of a spoon to spread out the mix if it's not evenly distributed.
Trim a further 3 pieces of buttered bread to fit another layer snug on top of the caramel mix.
Top with 10g of chocolate chips, 30g peanuts and 30g marshmallows.
Trim the last 3 pieces of buttered bread to fit the last (3rd) layer snug on top of the marshmallow mix.
Pour the milk mix evenly over the pudding and allow to sit and absorb for 1 hour.
Place the pudding into the oven for 35 minutes or until all liquid has fully been absorbed and the top is golden and crispy.
Allow the pudding to cool slightly until just warm.
Cut the pudding into 6 even pieces, 1horizontal cut through the middle and 2 vertical cuts.
Pull the plastic wrap to remove the pudding from the tin, being careful not to loose the puddings shape.
Use a spatula to spoon the pudding slices into bowls.
Top each piece evenly with remaining 10g chocolate chips, 80g caramel, 20g peanuts and 10g marshmallow's.
Serve with a generous scoop of vanilla ice-cream and enjoy.
NOTE: If the pudding starts to drop/slide in shape after step 13 place back in the oven for a further 5-10 minutes.
Step 4
Step 17
Like this recipe? Subscribe via RSS or email to get my new entries and more scrumptious recipes with reviews.