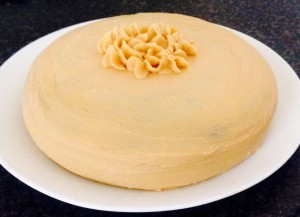 This recipe was inspired by a work colleague who suggested it would be interesting to replicate the flavours of a chai latte in my baking.
After playing around with a few ways of doing this (teabags, powder, a mix of Indian spices) I came up with the most amazing tasting, easy to make and all round satisfying Chai Latte Cake.
Outside on my Lemon Meringue Cheesecake, I have never received so much positive feedback from a cake I have made.
If you want to impress, this cake delivers –  100% guaranteed.
Chai Latte Cake
Ingredients:
Cake:
3/4 cup butter
3/4 cup sugar
150g instant chai powder
¼ tsn cardamom
3 eggs
3/4 cup milk
2 tsp vanilla essence
205g plain flour
2 + ¾ tsn baking powder
1/3 tsn bi carbonate of soda
¼ tsn salt
Frosting:
Ingredients:
135g butter
1 tsn of vanilla essence
165g icing sugar
25g instant chai powder
1 tbsn milk
Directions:
Preheat the oven to 175 and line a 30cm cake tin with baking paper.
Cream the butter and sugar in an electric mixer for 3 minutes.
Add the chai powder and Cardamom to the sugar mix and beat until combined.
Beat in the eggs one at a time, the milk, then the vanilla.
In a separate bowl mix the flour, baking powder, bicarbonate of soda and the salt until combined.
Slowly add the dry mix to the wet mixture a little at a time, beating in between until a thick creamy batter is formed.
Place the batter in the cake tin, using a spoon to flatten the top and bake for 40 minutes or until the cake is cooked through when you test it with a skewer.
While the cake is cooling you can make the frosting by beating the sugar and butter until light and fluffy.
Add the icing sugar, chai pwdrer and milk to the butter mix with electric beaters and beat for 5 minutes until creamy and thick.
Once the cake is cooled spread the frosting over the cake and enjoy.
Notes:
You can turn this mix into cupcakes by filling the patties ¾ full and baking for 20 minutes or until a skewer inserted in the center comes out clean.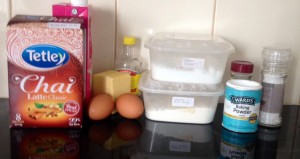 ingredients
Step 6
Step 10
Like this recipe? Subscribe via RSS or email to get my new entries and more scrumptious recipes with reviews.