Marshmallow Pie
Marshmallows…very interesting little pillows of happiness. Mostly known for being an essential camping item, an ingredient in rocky-road or a special addition to a cup of chocolate/cocoa tends to be otherwise overlooked.
I was sure this little gem had more potential so I started thinking up ways of championing the old Marshmallow in some tasty baking ways.
Incorporating with chocolate was too typical, I wanted to feature the 'marshmallow' flavour not cover it up. The outcome – A Marshmallow Pie. Think vanilla slice taste and texture but with the ultimate twist!
Ingredients
Pastry:
1 + 3/4 cup plain flour
¼ cup icing sugar
180g butter
2 tsn vanilla essence
Filling:
300g white marshmallows
140g milk
15g butter
1 tbsn vanilla essence
2 egg whites
3 tbsp sugar
110g thickened cream
1 tbsn icing sugar
1 tsn (extra) vanilla essence
Method
Pre-heat the oven to 180c.
Place the flour, butter, sugar, vanilla and 2 tbsn water in a food processor and pulse a few times to combine. Now process until the mix resembles breadcrumbs.
Place the mix into a bowl and kneed until combined.
Roll the dough with a rolling pin on a lightly floured surface and place the dough into a tart tray.
Place in the fridge for 20 minutes.
Place baking paper on top of the tart and blind bake for 15 minutes
Remove the paper and beans/rice and bake for a further 15 minutes.
Place the tart shell on a tray to cool.
Combine 240g marshmallows, milk, butter and vanilla in a saucepan and heat on medium, stirring until melted.
Remove from heat and whisk until smooth and glossy then place in the fridge to thicken stirring occasionally.
While waiting beat the eggwhites until soft peaks form, then slowly add the sugar and beat until stiff peaks form and mix is thick and glossy.
Place the cream, icing sugar and extra vanilla in a bowl, beat until thick and whipped.
Remove marshmallow mixture from the fridge and fold in the egg mixture and cream mix.
Using a whisk gently whisk until mix is smooth.
Spoon mixture into piecrust and place in the fridge for 4 hours to set.
Place 60g left over Marshmallows on the pie for decoration.
Notes:
Instead of whipping up the cream, vanilla and sugar you can simply use ½ can cool whip instead.
Ingredients
Step 3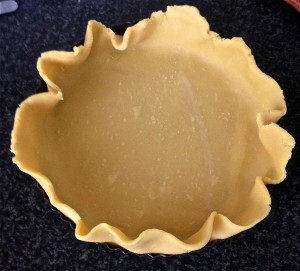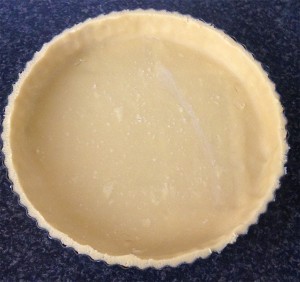 Step 4
Step 6
Step 9
Step 13
Step 15
Like this recipe? Subscribe via RSS or email to get my new entries and more scrumptious recipes with reviews.