Orange Blossom Semolina Syrup Cake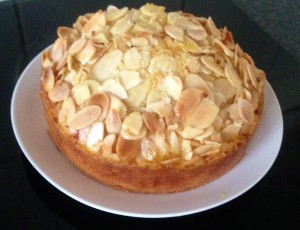 This cake incorporates unique flavors and ingredients that when combine produce the most amazingly textured and tasting cake.
The texture of the semolina, taste of the orange blossom and crunch of the almond meal/flakes creates a cake that will melt in your mouth. Add the orange syrup and you would swear the cake has just come out of a Greek nonna's kitchen.
The orange blossom delivers a special twist on top of the orange syrup for a unique rare luscious flavor.
Ingredients:
125g butter
110g sugar
2 tbsn orange zest
1 + ½ tbsn orange blossom water
3 eggs
1 cup semolina
1 cup almond meal
1 tsn baking powder
40g flaked almonds
2 tbsn extra sugar
200ml thickened cream
Syrup:
110g sugar
330ml orange juice (approx. 5 Oranges – use the same orange for the zest)
Method:
Preheat the oven to 180c and line a 23cm spring form cake tin.
Beat butter and sugar with electric beaters in a bowl until thick and pale.
Add the zest and blossom water, and beat until combine.
Add the eggs one at a time beating in between each addition.
Stir in the semolina, almond meal and baking powder until well combine.
Spoon cake batter into the cake tin and flatten out with the back of the spoon.
Sprinkle the flaked almonds on the top, and then sprinkle the extra sugar.
Bake for 40 minutes or until a skewer inserted in the middle comes out clean.
Leave in the cake tin and using the skewer poke small holes in the top of the cake.
To make the syrup place the sugar and orange juice into a sauce pan stirring on high until the mix bubbles. Turn to medium for 5 minutes or until the mix thickened up and turns syrupy.
Pour the syrup over the top of the cake, evenly covering all areas.
Whip the cream until thick and peaks form.
Remove the cake from the tin and serve warm with a dollop of the cream on the side.
Notes:
 When flattering out the cake batter allow for more batter around the sides of the cake so when it rises the centre will not peak.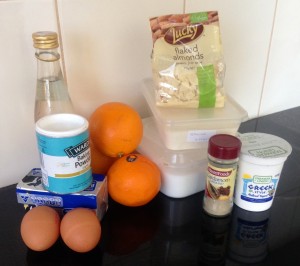 Ingredients
Step 3
Step 5
Step 5
Step 13
Like this recipe? Subscribe via RSS or email to get my new entries and more scrumptious recipes with reviews.