Coca-Cola Chocolate Cake
Give me a sec to explain before you get scared off this post (you will be thankful).
Ok so I didn't hit my head and decide to bake a cake with the first 2 ingredients that popped in my head. Believe it or not there are many versions of a 'Coca-Cola' cake. And I promise I wouldn't post a recipe on my site unless the recipe was super awesome.
I also thought that this was taking things a little too far and it would be a disaster waiting to happen. But I promise you that was not the case. The outcome was the most moist and intense chocolate flavoured cake I have had in a while. The cola must intensify the chocolate flavour as only 2 tablespoons of cocoa powder go into this cake and no actual chocolate. Personally I couldn't taste the Cola, the only remnants of it being there was an ever so slight cola after taste as such (which was surprisingly quite pleasant).
If you didn't know it wasn't a plain chocolate mud cake you would be none the wiser. Having said this though I did get feedback from people saying they could taste a little of the cola…each to their own I suppose.
Ingredients:
220g plain flour
250g white sugar
1/2 tsn bicarbonate of soda
1/4 tsn salt salt
1 egg
125g milk
1 tsn vanilla essense
125g butter
2 tbsn cocoa powder
190ml Coca-Cola
250g icing sugar
1 tbsn butter
4 tbsn coco-cola
1 tbsn cocoa powder
Method:
Preheat the oven to 180c and place in a baking tray. Line a 20cm cake tin with baking paper.
In a bowl add the dry ingredients – flour, sugar, bicarb soda and salt.
In another bowl beat with electric mixer the egg, milk and vanilla.
In a saucepan on low add the butter, cocoa and Coca-Cola until the butter is melted.
Add the butter mix to the dry bowl, stir until combined. Now add the milk mix to the bowl, beat with electric mixer until smooth.
Pour into cake tin and place onto tray. Bake for 50 minutes or until skewer comes out clean.
Let it cool for 10 minutes then place on a cooling rack to cool.
To make the icing melt butter in the microwave. Once melted add  coco-cola and cocoa, stir until smooth, add vanilla.
Stir in the icing sugar until cominbed then beat until thick and glossy. Set aside for 15 mins to cool and thicken.
Spread over cooled cake.
Notes:
I used gluten free plain all-purpose flour. I think this was a contributor to the cake being so moist and mud cake like.
I split the cake in half and spread half the icing in the center of the cake and the rest I pipped on top of the cake.
The cake is so rich that I don't actually believe you need the icing, as an alternative I would serve this with a dollop of cream instead.
Only 250g of sugar is in this cake and no chocolate as the cola is quite sweet already, therefore making the cake extra sweet.
I used diet Coke when I made this as this is what I had in my cupboard, however if you are a fan of cherries you could use Dr. Pepper or Lemon twist Coca-Cola for example for a little hit of complementary favour fusion with the chocolate.
A helping hand: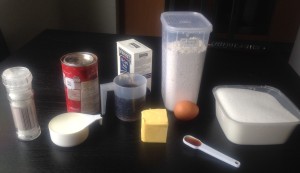 The ingredients.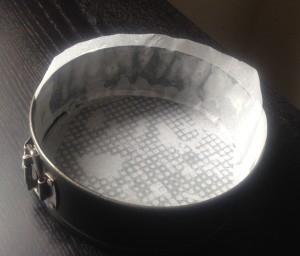 Step 1. Lining the cake tin.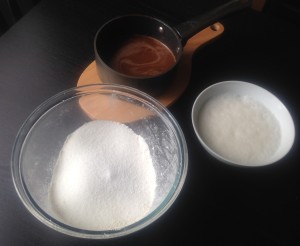 The 3 mixes.
Icing ingredients.
Step 9. The icing cooled.
Like this recipe? If you love the rich texture ayou may also like my Red Wine Chocolate Cake and my Chocolate Zucchini Cake. Subscribe via RSS or email to get my new entries and more scrumptious recipes with reviews.