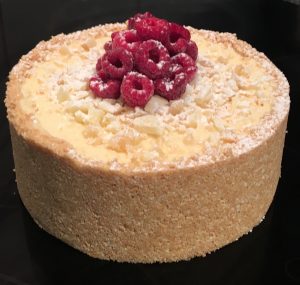 For a while now I have been trying to make a delicious dessert with a bottle of butterscotch snapps that I have left over from a cocktail night.

I figured I have never baked with butterscotch before and was really interested in experimenting and making it a hero ingredient.

For flavor pairing inspiration I thought about what works well with butterscotch sauce (hmmm butterscotch sauce). Vanilla and white chocolate seemed to have similar flavor profiles and worked well.

I decided on a cheesecake as the cake type, as I'm not a fan of heaps of cream and fat I decided to use low fat ricotta and mascarpone cheese as the filling foundation. I've made cheesecakes with ricotta before and they have worked brilliantly.

To ensure the textures were balanced I added chopped macadamias to provide some crunch, which goes perfectly with vanilla and white chocolate.

The outcome was a luscious and decadent cheesecake with grown up flavors that you can eat and enjoy more guilt free that usual.
Base:
Filling:
175g ricotta
175g mascarpone cheese
35g icing sugar
1 tsn vanilla essence
50ml butterscotch snaps
120g white chocolate
50g macadamia
Method:
Line a 25cm spring form cake tin with baking paper.

Place the biscuits and soften butter in a food processor and blitz until the mix resembles fine breadcrumbs.

Press mix into the bottom and sides of the lined cake tin.

Place the tin in the fridge to set.

Place the ricotta into a food processor until smooth.

Melt 40g of white chocolate and leave aside until cool to room temprature.

Transfer the ricotta into a large bowl with the mascarpone cheese, icing sugar, vanilla and butterscotch and beat using a hand whisk until just combine.

Add the melted white chocolate and whisk with the hand whisk until combine.

Finley chop up the remaining 80g white chocolate and the macadamia nuts and stir into the filling.

Pour the filling onto the base and place into the fridge for 3 hours to set.
Note: I have decorated with some extra chocolate and nuts chopped up as well as a few raspberries for decoration.

Step 2

Step 3

Step 5

Step 9

Step 10

Like this recipe? Subscribe via RSS or email to get my new entries and more scrumptious recipes with reviews.