So after eating a few 'black cat' lollies I decided I MUST make a sweet treat with this flavor. Black cats would have to be one of my most favorite lollies ever!
As to what form of dessert was going to be an interesting one and I didn't want the anisette flavor to be too savory so I opted to pair the lovely aromatic flavor of vanilla.
A cake, pie, slice and pudding was experimented, where the pie was the winner. Thus my Anisette Vanilla Marshmallow Pie was born. Now I must say the final outcome of this sweet treat is definitely only for anisette / liquorice fans. But if that is you then you will LOVE this treat.
Ingredients:
Pastry:
200g cup plain flour
30g icing sugar
150g butter
Filling:
240g white marshmallows
140g milk
15g butter
1 tbsn anisette essence
2 egg whites
10g sugar
110g thickened cream
1 + 1/2 tsn vanilla essence
Method
Pre-heat the oven to 180c degrees.
Place the flour, butter, sugar and 2 tbsn water in a food processor and pulse a few times to combine. Now process until the mix combines and balls together.
Roll the dough with a rolling pin on a lightly floured surface and place the dough into a tart tray.
Prick the centres with a fork and place in the fridge for 20 minutes to harden.
Place baking paper on top of the tart with rice and blind bake for 15 minutes.
Remove the paper and rice and bake for a further 15 minutes.
Place the tart shell on a tray to cool.
Combine 240g marshmallows, milk, butter and essence in a saucepan and heat on medium, stirring until melted.
Remove from heat and whisk until smooth and glossy, allow to cool then place in the fridge to thicken stirring occasionally.
Meanwhile, beat the egg whites until soft peaks form, then slowly add the sugar and beat until stiff peaks form and mix is thick and glossy.
Place the cream and vanilla in a bowl, beat until thick peaks form.
Remove marshmallow mixture from the fridge and add in the egg mixture and cream mix.
Using a hand whisk gently whisk until mix is smooth and all ingredients are combine.
Spoon mixture into piecrust and place in the fridge for 2 hours to set.
Decorate as you deem fit.
Note: I decorated with some chopped up licorice square lollies. I also opted in the photos for mini tart cases instead on one large tart case.
Step 2
Step 3
Step 7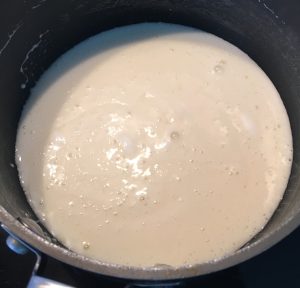 Step 9
Step 15
Like this recipe? Subscribe via RSS or email to get my new entries and more scrumptious recipes with reviews.